Basehor girls execute game plan, take down Mill Valley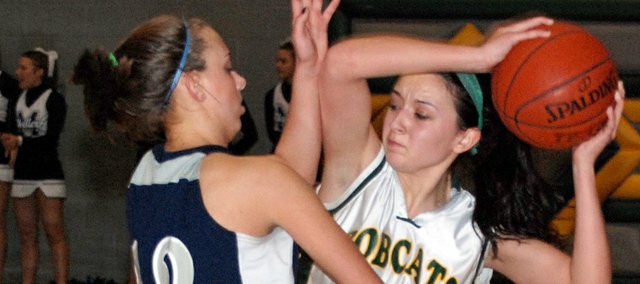 Noah Simpson was in and out of the locker room in record time Friday night.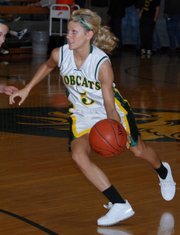 The Basehor-Linwood girls basketball coach didn't have much to say to his team — and with good reason. There was nothing to criticize, nothing to break down or critique.
"I walked in and told the kids 'It's pretty simple, I'm proud of you guys. Great job; big step forward; let's get after it on Monday,'" Simpson said.
Mill Valley made things interesting late before the Bobcats closed out a 46-37 victory, but they did so many things right that their coach — and a spirited home crowd — were pleased. They battled through a tough first half, used feisty defense to build a 14-point lead in the third quarter and then went 8-for-8 from the free throw line in the final 81 seconds to preserve the victory.
In the process, the Bobcats improved to 8-6 overall, remained in second place in the Kaw Valley League at 5-2 and ran their record in 2010 to 7-2 after going 1-4 in December.
"We talked to the kids before the game about going out and proving to ourselves and to our fans and to our community that (we're a better team)," Simpson said. "Before break we were really trying to find an identity, but I think as you've probably seen the last stretch of games that we know what we're doing, the kids are executing, and they executed the game plan well tonight."
The game plan called for running the offense through star forward Megan Bergstrom. The Bobcats made sure to get her touches early, and it paid off. She scored one basket and hit four free throws during the first five minutes of the game and helped BLHS build a 12-9 lead by the end of the first quarter.
Guards Taylor Johnson, Shelby Equels and Courtney Poe repeatedly fed the ball inside to Bergstrom, and she either fired a shot or kicked the ball back out to an open shooter after drawing a double-team.
Poe and Equels had assists on back-to-back buckets by Bergstrom as BLHS stretched its lead to 18-12 midway through the second quarter. The Jaguars closed to within 18-16, but the Bobcats closed the half on a 5-0 run as Poe buried an 18-footer, Johnson swished a free throw and Bergstrom scored inside.
Bergstrom scored 12 points in the first half and BLHS led 23-16 at halftime.
"We figured Mill Valley would try to do what they could to double in on Megan, but we still did a good job of executing and getting her the ball," Simpson said.
Basehor switched from man-to-man to a zone defense during the third quarter, and it opened the second half on a 9-2 run. A full-court pass from Bergstrom to Poe for a layup gave the Bobcats their largest lead of the game at 32-18 with 2:36 left in the third quarter.
Mill Valley closed the quarter on an 8-1 run, and the Jaguars continued that momentum in the fourth quarter as they drew within 38-34 with 1:31 to go.
The Bobcats stepped up and hit all of their free throws down the stretch to put the game away.
"We closed it out well," Simpson said. "Poe steps up and hits some big (free throws); (Cassy) Bever steps up and hits two big ones; Shelby Equels steps up and goes 4-for-4. That's huge."
Emily Altman led Mill Valley with 17 points and Nicole Garretson added 12 as the Jaguars dropped to 6-7 overall and 4-3 in the KVL.
Bergstrom led Basehor with a game-high 18 points, Bever scored 9 and Poe added 8 in the victory.
The Bobcats next play at 6 p.m. Tuesday at home against Piper.