Bobcat wrestlers turn focus to postseason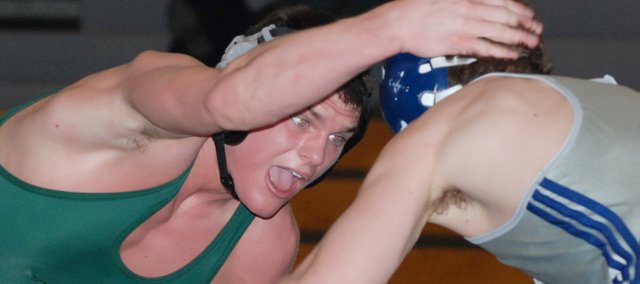 The Basehor-Linwood wrestling team dropped a pair of duals Thursday at home, but the scores were a bit deceiving.
Photo Gallery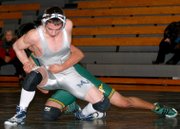 Thursday wrestling dual at BLHS
As has been the case all season, the Bobcats' small roster has all but prohibited them from winning duals because they've had to forfeit six or seven matches by not having a wrestler in the weight class. That was a factor again Thursday in a 54-22 loss to Ottawa and a 49-18 loss to Mill Valley.
Of the matches the Bobcats actually wrestled, however, they went 4-4 in each dual.
Against Ottawa, Antonio Ferro won by pin at 112 pounds, Tyler Simpson won by pin at 130, Derek Pike won by pin at 140 and Joe Johnson won by 11-1 major decision at 160.
Against Mill Valley, Simpson again won by pin, Pike earned a 5-1 decision, Dustin Williams won by pin at 145, and Johnson earned a hard-fought 4-1 decision.
The duals were the Bobcats' final tune-up before competing Saturday, Feb. 13, at home in the Kaw Valley League Championships. BLHS coach Ed Seaton said he believes his squad is ready to make the final push toward a successful postseason.
"We'll have a short practice (Friday), maybe have a pizza party since we don't have to make weight Saturday," he said. "Going into Monday, they need to be fired up and ready to go, and hopefully next week we'll come out with a couple champions and some confidence for the regional tournament."
The Bobcats have a handful of wrestlers expected to contend for individual KVL titles. Among them are Symon Seaton who is ranked No. 1 in Class 4A at 125 pounds and Johnson who is ranked No. 4 in Class 4A at 160 pounds.