Bobcats scorch Jaguars
Basehor hits 71.7 percent from the field in 48-point victory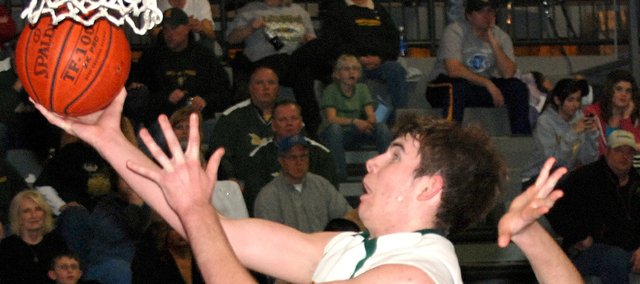 The snow that fell all day Friday had nothing on the Basehor-Linwood boys.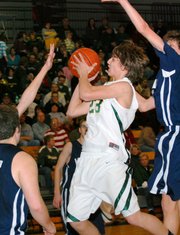 The fluffy flakes may have coated the ground outside, but the Bobcats created a basketball blizzard inside the BLHS gym was they unleashed an avalanche of offense on Mill Valley, 78-30, for one of the most lopsided victories in school history.
The Jaguars came out playing a zone defense. The Bobcats punished them immediately and didn't let up until all of the starters took a seat on the bench for good late in the third quarter.
"We didn't play real well against the zone for a while (Tuesday at Tonganoxie) because nobody played us zone, so it probably wasn't fair to Mill Valley that Tonganoxie played us a zone because we spent the last two days practicing against a zone," BLHS coach Mike McBride said. "We got some things touched up, and I don't know what it is about my kids but we've always played well against a zone. It was just a matter of getting us in the right spots and realizing where we're at. They came out in a zone, and it was not real good for them."
"Not real good" was putting it lightly.
The Bobcats hit 71.7 percent of their field goals (33-for-46) and turned the ball over just six times all night. Every player who got in the game scored.
A steady flow of shots swished through the net from the very beginning. The Bobcats hit 9 of 13 shots during the first quarter and raced to a 22-6 lead. Five different players scored during that run, including seven from Evan Theno.
The Bobcats followed that up with a scorching 8-for-10 effort during the second quarter as Mark Vaca made a pair of layups and Ryan Murphy went 5-for-6 mostly on layups while on the receiving end of nice passes.
The Bobcats led 39-9 at halftime after making 17 of 23 field goals while holding Mill Valley to 3-for-19 shooting.
The lead continued to grow throughout the third quarter. Mill Valley finally reached double digits when L.J. Hatch hit a free throw with 4:02 left in the quarter.
Twins Ryan and Colin Murphy combined for 18 points in the quarter as the Bobcats stretched their lead to 65-16 before coasting to the victory.
Austin Muckenthaler led Mill Valley with 9 points as the Jaguars fell to 5-9 overall and 5-3 in the Kaw Valley League.
Ryan Murphy led Basehor with 20 points, Colin Murphy had 16 and Theno scored 10. Also for BLHS, Jake Hattock and Jeff Johnson scored 6 apiece; Vaca, Ryan O'Donnell and Steyr Stubenrauch had 4 apiece; Richie O'Donnell had 3; Ben Johnson and Caleb Johnson each had 2; and Austin Stubbs added 1.
BLHS next plays at 7:30 p.m. Tuesday at home against Piper.