Basehor-Linwood students selected for state honor band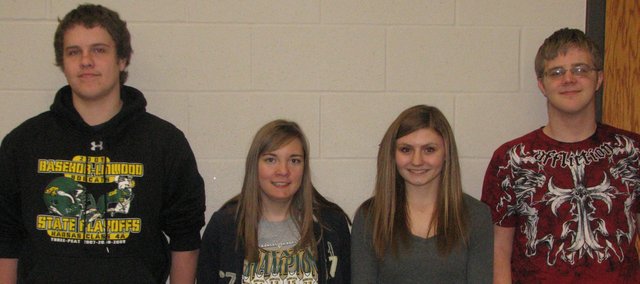 Several Basehor-Linwood High School students are being recognized for their musical talents.
Sophomores Alex Bright and Ben Kamm and senior Rachel Peterson were selected for the Kansas Music Educators Association All-State Band concert, and freshman Ben Forshee was named to the John Phillip Sousa Honor Band.
News of the selections reached Basehor-Linwood this winter, and all four students were surprised to find their names among the other talented musicians.
"My mom got on the computer at about 11:30 at night, and she started freaking out when she saw my name," Forshee said. "I was just stunned and surprised."
Though auditions for All-State Band were in November, the students began preparing as early as May or June. Director Curtis Westbrook said the months leading to auditions were intense, with students practicing inside and outside school.
"This process is very rigorous. The students spend countless hours preparing for an audition that actually only lasts for a few minutes," Westbrook said. "(Ryan) Kazmaier, (jazz band director), and I spend an inordinate amount of time teaching lessons after school to help these students prepare. We also encourage them to study privately when their schedules allow. The students have begun to understand what an honor the All-District and All-State Bands are and take the audition process very seriously."
Each of the students has a different role at Basehor-Linwood, with Peterson on the flute, Bright on the clarinet, Kamm on the bassoon and Forshee on the trumpet. Forshee had his chance to show off his skills at the Sousa Honor Band concert Jan. 4 in Lawrence, and he said the experience was one to remember.
"It was very positive," he said. "It was a lot of fun, and I met tons of new people."
The other three students will perform Feb. 27 in Wichita, and they are looking forward to the trip.
"I'm not totally sure if I will be there because I'm an alternate, but if I go, I'm sure it will be really good," Peterson said.
"It will be fun I think," Bright said. "To be around a lot of people who like music, that will be fun."
Westbrook says the students should be proud of their hard work and recognize what an achievement it is to be selected to either honor band.
"It is a tremendous honor," Westbrook said. "The Northeast District of KMEA is very competitive, so it is a significant accomplishment for students to be selected for that band."
As their director, Westbrook says he is thrilled with the effort his students have put into their music, and he sees many more Basehor-Linwood band successes in the future.
"I am exceptionally pleased with these young people that audition because of the time commitment involved," he said. "Their work ethic inspires me. This is not something that is required. The students choose to do it of their own accord. I feel good about the future when we have young people who are willing to rise to the challenge and commit themselves to this process."