Cable network to chronicle rescue of former Basehor resident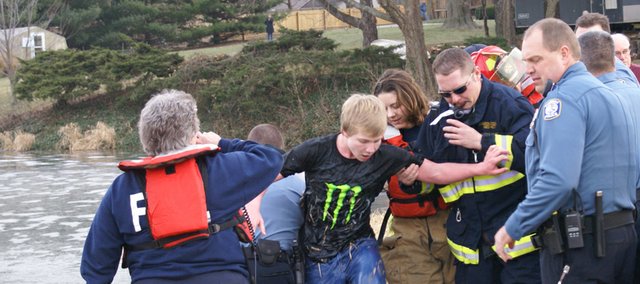 A Shawnee teenager who remained calm in a life-threatening situation and the firefighters who saved him will soon share their story on national television.
Late last month, a camera crew with The Discovery Channel was in Shawnee to film interviews with the Shawnee Fire Department and Joe Clopton, the 13-year-old who on Dec. 21 fell through the ice at Walden Pond in Shawnee. The footage will be used as one of six stories in a special show about how knowledge gained from the channel's programs helped to save a life. The show will air on Memorial Day to commemorate the channel's 25th anniversary.
On the day of the incident, Joe was out with his brothers Jacob Clopton, 15, and Cooper Thompson, 8, and another friend. They recently moved to Shawnee from Basehor, but their grandmother lives down the street, so they were familiar with the pond.
"They usually go out and play football, but that day, I don't know what in the heck (got into them), walking at the side of the pond," said Kristin Clark, the boys' mother. "Joe was trying to be a hero or something, and he said, 'Hey guys, I'll walk out to the middle and see if it's thick enough for us to walk on.'"
Joe said his nervousness grew as the distance from shore grew.
"The further I got out, I could tell it was getting thinner, but I didn't think it was going to break through until I got that far," he said.
Then he looked down and saw that water was seeping through the ice, covering his feet.
"Right when I lifted my foot up, it broke through," Joe said.
The next thing he knew, Joe was up to his neck in freezing cold water.
Then Jacob started yelling to Joe, reminding him of what they'd seen on the show "Man vs. Wild" — that when you fall through the ice, you should stay calm and shouldn't struggle, because you'll be more likely to go under. Joe dug his fingers into the ice and held still.
Jack Dillon, the firefighter that rescued Joe, said the advice was sound; the amount of energy and exertion a person uses affects the rate that hypothermia sets in.
"When he decided to just latch on to the side on the ice shelf, he actually greatly increased his chances, because rather than wrestling around and using all his energy trying to get out, he was able to store his energy, and he increased the chances for us to get out there and help," Dillon said.
Jacob ran home to tell his mother, but emergency crews were already on their way. A neighbor had seen Joe fall in and called 911 right away.
"When I first heard the sirens, I didn't really think it was for me, I didn't know how serious it was," Joe said.
Joe watched as the first truck arrived, with Dillon suiting up in one of the two ice suits on each fire truck, firefighter Nicole Morse setting up ropes to anchor Dillon to shore, and Capt. Joan Moore overseeing the scene.
Battalion Chief Michael Owens, Capt. Albert Hoelting and another truck crew, Capt. David Hunter and firefighters Brent Fernandez, Mark Foster and Jeff Salmon joined in the rescue.
Fernandez also suited up in an ice-rescue suit, as once one firefighter is out on the ice, a second crew must be ready to provide assistance. Dillon made his way out to Joe from one angle; Fernandez attempted to join him, coming from another angle with a body board, but he fell through the two- or three-inch-thick ice.
"Stepping out onto the ice, I could feel the ice cracking below me, and Nicole Morse, who was my shore support, said it looked like I was walking on the surface of a trampoline, because she could see it bending," Dillon said.
Dillon grabbed Joe and allowed firefighters on shore to tow them in. Joe had started to feel the effects of being in the frigid water.
"I got heavier, and I started losing my grip as it got colder," he said.
"He didn't really notice until he got into the ambulance how he felt because he was just numb," Clark added. "When we got into the ambulance is when he started shaking so bad, and it really hit him, what had happened."
Joe's temperature was 91.8, and Clark said while Joe's arms were bright red, his face was gray.
"His skin didn't even feel real," she said. "It was the most terrifying thing in my life."
Luckily, Joe only had to stay at the hospital for a few hours before his temperature was back near normal. He had marks on his stomach from being pulled through the ice and some of his fingernails broke off, and he had no feeling in his fingertips for the next several days. The fire department estimated he was in the water for less than 10 minutes total.
It wasn't until mid-January that the family got the call about being on the Discovery Channel, which had seen Jacob's mention of "Man vs. Wild" in the news coverage of the rescue.
"I was shocked; I didn't even know that was going to happen," Joe said. "I thought it was over really. After (it was on) the news, I didn't expect anything of it."
The film crew filmed Jan. 23 with the fire department and then with Joe's family the following day.
Dillon said he won't mind if much of his footage ends up on the editing room floor; he and the other firefighters don't want special attention for doing their job.
"At this point, I'd be interested to see what it is, but on the other hand, we get a lot of ribbing at the station," he said.
Dillon said he just hopes the television program communicates the dangers of venturing out onto the ice. Joe, who is considering talking to school groups about his experience, said he knows what his message will be: Even if you think it's thick enough, it's a bad idea.
"Never do it in the first place," Joe said.