Johnson has mat goals within his reach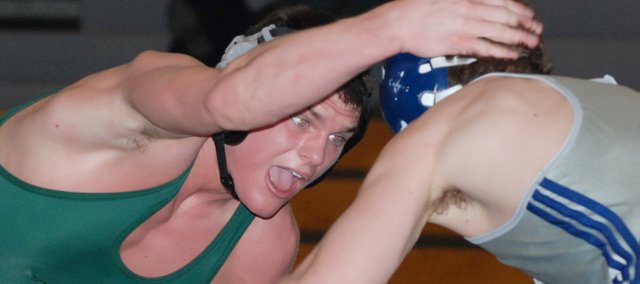 Joe Johnson is entering the home stretch of what has been a successful high school wrestling career, but the Basehor-Linwood senior has some unfinished business he hopes to take care of during the next few weeks.
A Kaw Valley League championship, a regional title and a state medal are all achievements that have eluded Johnson during his career.
"I want to win all the way out, even at state," Johnson said. "That would be a tremendous goal."
League, regional and state glory all are within Johnson's reach during the final three weeks of the season.
Johnson enters the postseason with higher expectations than ever before, but those expectations are with good reason. He has established himself as one of the top wrestlers in Class 4A. He has won multiple tournament titles this season and is ranked sixth in the state at 160 pounds.
It has been a memorable senior season so far, and it's one that Johnson has spent the past decade building toward.
BLHS coach Ed Seaton is in his first year coaching the Bobcats, but he has been a long-time coach at the club level. Seaton remembers coaching Johnson when he was first starting in the sport.
"I've worked with Joe for years … since he was about 10 years old," Seaton recalled. "He's got his own style. We tried to get him to do a lot of things in the Bonner Springs kids club. He was one of those guys that liked to latch on, and he was just good at what he did. All of his matches were close; it didn't matter who he was wrestling."
The club experience prepared Johnson to make an impact as a freshman at BLHS. He posted an 11-14 record as a 119-pounder, but he placed fourth at regionals and earned a trip to the state tournament.
Johnson didn't medal at state as a freshman, but he hoped that would happen during his sophomore season. He didn't get the chance, however.
"Sophomore year I didn't go (to state) because I screwed around in classes and had bad grades," Johnson said. "I regret that real bad."
Rather than dwelling on the mistake, Johnson used it as motivation to make him better. He worked harder in the offseason and returned to the wrestling room determined to go back to state as a junior. He accomplished that feat while compiling a 22-12 record at 145 pounds. He went 1-2 at state, however, and again missed out on a medal.
From the first day of practice this season, Johnson has been a man on a mission. He has had his eyes set on creating a memorable senior season — and he has delivered so far.
"I think this year he's seen that this is it. It's now or never," Seaton said. "Hopefully he'll take advantage of it and be able to do something at the state tournament. He's working hard."
Johnson's hard work has paid off in the form of individual championships at the Shawnee Mission Northwest Cougar Invitational and the Paola Invitational. He also finished second at the Dick Burns Mat Classic and the Bobcat Classic, and he took third at the Emporia Winter Classic.
Johnson has compiled a 25-6 record so far. If all goes well during the next three weeks, that record could be even more glistening — with a shiny state tournament medal to cap it all off.
"This is my last shot," Johnson said. "I've got to make it happen."