Legislators talk budget crisis with constituents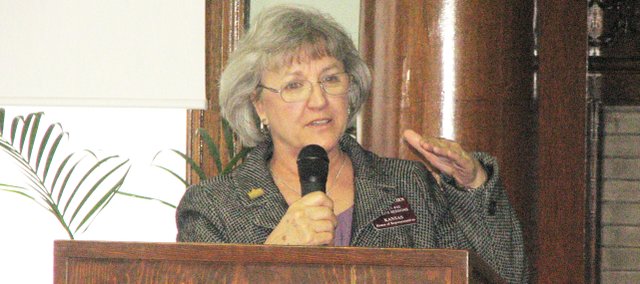 The state's budget crisis was on most everyone's mind as members of the Leavenworth County legislative delegation met with local constituents Friday in Leavenworth.
Because of slumping tax revenue, state officials cut the budget by $1 billion last year, and are now facing another $400 million revenue shortfall.
State Sens. Tom Holland and Kelly Kultala, and Reps. Melanie Meier, Connie O'Brien and Marti Crow were in town for the first of the Leavenworth County chambers of commerce legislative updates.
One audience member's question addressed Gov. Mark Parkinson's proposal for a 1 cent sales tax increase. Though the Republican-dominated Legislature chose not to act on Parkinson's proposal, the audience member wanted to know how much money it would have generated for the state and if any legislators present supported such an option.
Holland, D-Baldwin City, said a sales tax increase of one penny would have created about $308 million in revenue for the state, but he wanted to explore a few alternatives before supporting such an increase.
"I think in all fairness, we need to look at the tax cuts we've already implemented and consider reversing those before increasing taxes," he said.
Kultala, D-Kansas City, said she thought a tweaked sales tax increase could be plausible.
"I think a sales tax increase can pass, but only if food and groceries were not part of that," she said.
Another audience member asked why the state had not moved forward with reversing tax exemptions.
Crow, D-Leavenworth, said exemptions were not the root of the state's problems with taxes, and the government needed to work to change the system altogether.
"What we ought to be demanding is that taxes be broad and fair," Crow said. "Everyone should share the burden. Right now, taxes are narrow. When we give tax cuts… the middle class, working class are shouldering more of the burden, and they can't take much more."
The state's treatment of the elderly was also a topic of conversation, as one person present said the government was shuffling people into nursing homes and not upholding the "Kansas value system."
Crow responded saying the government was not trying to help one group and bring detriment to another.
"There is this myth that the government is some person we don't know, and money goes to people we don't know," she said. "The government is here to take care of people in our state. Money from the general fund goes to agencies that directly affect you, agencies like councils on aging, public schools."
Crow also stressed the importance of constituents keeping in contact with their local legislators, not only to address concerns but also to remind members of the state government that the public pays attention.
"Contact your legislators and tell them, 'We know who you are, and we're watching how you vote.'"