Seniors relish more freedom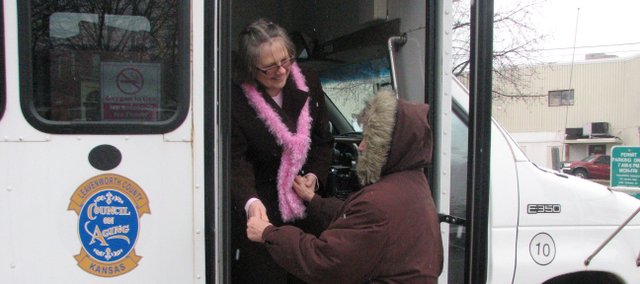 The Leavenworth County Council on Aging has expanded its transportation services to allow more seniors in the county some traveling freedom.
In December, the organization began offering its Senior Express services to seniors in Basehor and Tonganoxie and added the option of out-of-county transportation for medical needs.
Council on Aging transportation compliance manager Laura Elkins said the Senior Express had always been unique because of its home pickup and drop off, but it was serving a larger purpose with its assistance outside the county.
"Senior Express allows us to provide assistance to seniors who have medical needs outside Leavenworth County, which is something the general transportation units don't do," Elkins said. "It's also easier for seniors because we pick them up right at their door. It's a curb-to-curb service."
Persons age 55 and up can contact the Council on Aging to arrange an appointment for the Senior Express, and the drivers will take them anywhere in the county and to any medical facility out of the county. Since the transit began in the 1990s, Elkins said the response had been enormous.
"We have quite a few seniors who request it," she said. "Here in Leavenworth, the demand has always been great, and we've seen a lot of people already interested in using the service in Basehor and Tonganoxie."
Senior Express supervisor Linda Karpierz frequently drives the buses, vans and cars designated for the transit, and she says it's a position she enjoys thoroughly.
"I love doing it," Karpierz said. "I take every opportunity to drive because I just love it. These people are so grateful, and you form such a camaraderie with them. A lot of times we'll be driving along and they'll say, 'Three cheers for the driver!' I just love it."
One of the reasons an option like Senior Express is so important, Karpierz said, is because it allows seniors to stay that much more active and independent.
"We do things that still give them that little bit of freedom," she said. "We give them that freedom to go, and they're so thankful."
Reservations are required for transportation with Senior Express, and a fee of $10 will apply to all one-way trips outside the county. A fee of $1 to $10 will apply to one-way trips inside the county, depending on distance.
Elkins suggests making reservations five days in advance because appointments will be made on a first-come, first-serve basis, and space is limited.
Call toll free at (877) 720-5556 or (913) 684-0808 to make an appointment. Dispatch hours are 7:30 a.m. to 4 p.m. Monday through Friday, and Senior Express hours begin at 8 a.m., with the last scheduled ride at 2 p.m.