Highway cleanup efforts following multi-car crashes took 11 hours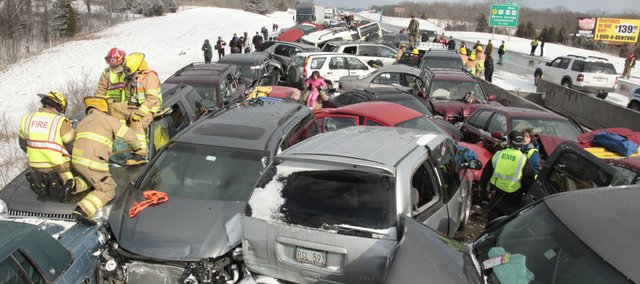 Valentine's Day's barrage of car pileups in the Kansas City metro area was the like of which officials dealing with the aftermath say they had never seen before.
"This is the biggest (accident) we've ever came upon," said assistant Bonner Springs Police Department fire chief Dennis Hubbel, who was the first member of the Bonner fire department on scene at the 40-car pileup that occurred at mile marker 223.362 on the bridge about a half-mile west of the intersection of Kansas Highway 7 and Interstate 70 highway.
The result of icy roads and poor weather conditions, that accident occurred at about 1:19 p.m., according to officials with the Kansas Turnpike Authority. During the same time period, another multi-car pileup accident occurred at eastbound I-70, two-and-a-half miles west of K-7. The nature of the accidents and the amount of time it took to clear the cars away caused both westbound lanes and one eastbound lane to be closed until about 6:30 p.m.
Assistance organizations on site included Troop G, with the Kansas Highway Patrol, Bonner Springs Emergency Services, Fairmount Township Fire Department out of Basehor and Leavenworth Emergency Services. Hubbel, who organized the Bonner fire department efforts, said he had 12 fire fighters on scene on the westbound accident helping to get people out of cars that had been sandwiched in by other cars during the course of the pileup. He said doors and windows of many of the vehicles had to be pried open in order to get drivers out.
"The cars were so compacted together, they had to come mostly out windows and doors that were open," Hubbel said.

No serious injuries have been reported at this time in connection with either pileup, but John Claxton, Bonner Springs emergency medical services chief, said the westbound accident resulted in several impact injuries. Fifteen people, he said, were transported to area hospitals. He said paramedics were out working for about three hours.
At the eastbound accident, 10-12 people have been reported as being transported to a hospital. Gayln Gorup, public information officer with the Fairmount Township Fire Department, said that about 40-50 people had to be freed from their vehicles by fire fighters.
The overriding feeling amongst all the drivers, he said, was one of relief.
"I think they were happy to be alive after what they went through," Gorup said.
Lt. Joe Bott, with the Kansas Turnpike Authority, said that several wreckers were used in the clearing of the highway, including Tiger Tow from Bonner Springs. Bott said to get the cars off the highway as quickly as possible, cars were first towed to the KTA maintenance yard at the southeast corner of K-7 and Canaan Drive in Bonner Springs. Phil Smith, owner of Tiger Tow, said later many of the cars were towed to his tow lot. Four tow trucks were used, he said, to not only help the clearing with the westbound and eastbound accidents, but also another pileup that occurred along Interstate 435 in Kansas City, Kan., that same day.
Smith said he and his workers were out until about midnight, clearing cars and debris and taking care of any oil, transmission or antifreeze spills. Still, he said, the close to 11-hour workday was strangely routine.
"I think everything went very smooth, the way it was done," Smith said. "I think it went very smooth, as bad as it was to get the interstate open."
For more of this story, pick up the Feb. 18 issue of the Chieftain.