Season of Lent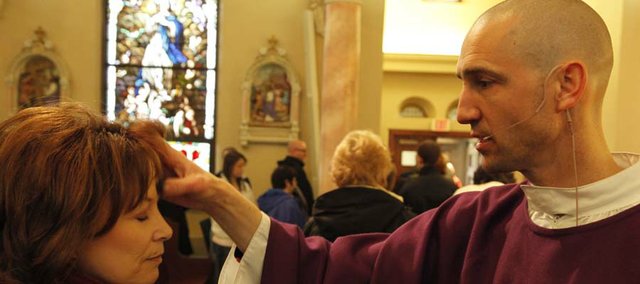 Joe Brandenburg, Parish Council president at Holy Angels Catholic Church in Basehor, discusses the tradition of Lent in this week's 5 Questions
Q: What is the origin of Lent?
A: The origins of Lent, while not precisely known, probably date back to at least the year 200 A.D., if not earlier. However the practice and duration of Lent was not the same throughout the early Church. Lent seems to have been "formalized" at the Council of Nicea in the year 325 A.D. The "40" days of Lent have special significance as Moses was in the desert with God for 40 days, Elijah walked 40 days in the desert and Jesus fasted for 40 days. By the 40 days of Lent we unite ourselves each year to the mystery of Jesus in the desert.
Q: What are the dates during which people participate in Lent?
A: Lent begins approximately four weeks before Easter on Ash Wednesday (Feb. 17 this year). The beginning of Lent is therefore based on the date of Easter which is celebrated on the first Sunday following the full moon that occurs on or next after March 21. Lent concludes with the Easter triduum, which is a three-day event that begins at the Mass of the Holy Supper on Holy Thursday.
Q: What are a few common items you hear people give up for Lent?
A: What people give up for Lent is an individual choice. With a young child it may be a favorite candy or show. For an adult it may be a food or drink, hopefully giving up something that will bring us closer to God. Often overlooked is the importance of the positive things that can be done that we can and should dedicate ourselves to. Equally important are works of mercy and providing money and assistance to those in need.
Q: Why are Sundays generally not calculated in Lent?
A: The six Sundays in Lent are not counted among the 40 days because each Sunday is a "small Easter" – a belief in the celebration of Jesus' victory over death. Fasting and abstinence are important in Lent but so are prayer and works of charity and mercy.
Q: Why is Lent an important part of a person's faith?
A: Lent is important for many of the reasons listed above, but in summary, it is important because it should bring us closer to our Lord, to the liturgy, to the word of God and to each other.