Accidents snarl highways
Winter storm causes pileups on Interstate 70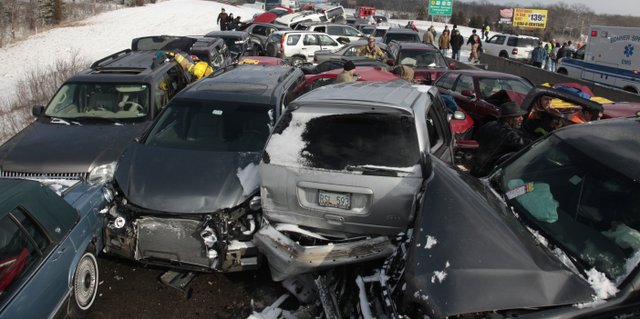 As she stood on a hill past the bridge just west of Kansas Highway 7 and Interstate 70, watching a massive accident unfold, Lawrence resident Jessica Boehle couldn't believe her eyes.
Boehle was one of the first drivers to be in a Valentine's Day pileup involving at least 40 vehicles that occurred on the bridge near mile marker 223 on I-70.
Boehle had been driving back from visiting her mother in Kansas City, Kan., when she hit a car that had spun out in front of her. She then was hit from behind by another car. After feeling the impact of each car that couldn't avoid sliding into the growing pile, Boehle said she got out of her car, a 2002 Honda Odyssey van, and ran up the hill.
"It was just, you know, scary," Boehle said. "There were several people standing up on the hill. From up there, we actually saw quite a few of the cars come into the pile. We actually watched the cars that were going underneath other cars. There was a stack of cars four high in the back (of the pileup)."
Kansas Turnpike Authority and Highway Patrol officials earlier this week were still trying to piece together the events that resulted in Sunday's barrage of multivehicle crashes that occurred in and around the Kansas City metro area, including another pileup on eastbound I-70, two and-a-half miles west of K-7.
Both accidents happened in the same time frame — between 1 p.m. and 2 p.m. The nature of the accidents and the amount of time it took to clear the cars away caused both westbound lanes and one eastbound lane of I-70 to be closed until about 6:30 p.m.
"This is the biggest (accident) we've ever came upon," said Dennis Hubbel, assistant chief with the Bonner Springs Fire Department. Hubbel was the first member of the Bonner Fire Department on scene at the westbound pileup.
Organizations assisting with the accident rescue included Troop G of the Kansas Highway Patrol, Bonner Springs Emergency Medical Services, Fairmount Township Fire Department and Leavenworth County Emergency Medical Services.
Hubbel, who organized the Bonner Fire Department's efforts, said he had 12 firefighters on scene on the westbound accident helping to get people out of cars that had been sandwiched in during pileup.
"The cars were so compacted together, (accident victims) had to come mostly out windows and doors that were open," Hubbel said.

Miraculously, no serious injuries have been reported in either pileup, but John Claxton, Bonner Springs EMS chief, said the westbound accident resulted in several impact injuries. Fifteen people, he said, were transported to area hospitals. He said paramedics worked the accident for about three hours.
AInt the eastbound accident, 10-12 people have been reported as being transported to a hospital. Gayln Gorup, public information officer with the Fairmount Township Fire Department, said about 40-50 people had to be freed from their vehicles by firefighters.
When the collisions finally ended, Gorup said, the overriding feeling among all the drivers was one of relief.
"I think they were happy to be alive after what they went through," Gorup said.
Claxton said a priority system was used when dealing with the accident victims. Those who were most injured were helped first, while others were told to wait in their car to stay as warm as possible in the frigid temperatures. Two Bonner school buses, Tiblow Transit vehicles and buses from Leavenworth transported people away from the scene so tow trucks could start clearing vehicles away.
Lt. Joe Bott of the Kansas Turnpike Authority said several wreckers were used to clear the highway, including Tiger Tow from Bonner Springs. Bott said to get the vehicles off the highway as quickly as possible, vehicles first were towed to the KTA maintenance yard at the southeast corner of K-7 and Canaan Drive in Bonner Springs. Phil Smith, owner of Tiger Tow, said later many of the vehicles were towed to his lot. Four tow trucks were used, he said, to help clear the I-70 accidents and another pileup that also occurred Sunday along Interstate 435 in Kansas City, Kan.
Smith said he and his workers were out until about midnight, clearing cars and debris and taking care of any oil, transmission or antifreeze spills. Still, he said, the close to 11-hour workday was strangely routine.
"I think everything went very smooth, the way it was done," Smith said. "I think it went very smooth, as bad as it was to get the interstate open."
Hubbel noted the accident's cause — icy conditions — also might have prevented any more serious injuries than those that occurred. Pprior to the accident, people had been driving slower than posted speed limits because of the ice, he said.
"It seemed like it was a lot of impact, but it wasn't a 70-miles-per-hour impact," he said.
He noticed people waiting in their cars seemed to be "antsy," but calm at the same time — despite the nightmarish afternoon.
"Once the buses started showing up, everybody was very equitable," Hubbel said. "Everybody worked with us pretty well."
A Tiblow Transit vehicle took Boehle away from the scene to the Waffle House in Bonner Springs, where a friend picked her up. On her Twitter account after the accident, she tweeted she was having a hard time finding her van, which was one of the cars that had to be towed away. She said she later located it at a tow truck company in Basehor.
Asked Monday whether she expected her car would be totaled out as a result of the accident, Boehle said, "I just got ahold of the insurance (company) today, but I would say probably."