Church unveils newest building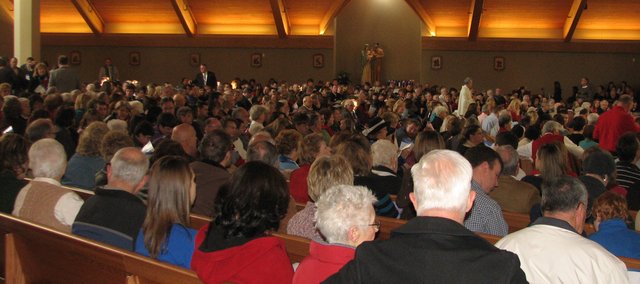 Holy Angels Catholic Church was packed with more than 1,000 people Sunday morning as the congregation celebrated the opening of its new church.
With every seat in the pews filled and nearly 50 people standing, the Rev. Al Rockers stood before his congregation for the first time in the life of the new, 18,000 square-foot building.
"Alleluia, alleluia," Rockers said with outstretched hands, and the crowd erupted into applause as the service began.
The new church project began with the launch of the church's capital campaign in March 2007, when Holy Angels coined "Building Together, Soaring in Faith," as the theme and title of its mission. More than $1 million was raised through parishioners' contributions to the campaign.
The vision started to come to fruition with the May 18, 2008, groundbreaking, and Sunday marked the end of a long, prosperous journey.

Archbishop Joseph Naumann presided over the dedication ceremony, which honored the 144-year history of Holy Angels.
"This is indeed a historic day in the long and beautiful history of Holy Angels," Naumann said. "Four churches, two fires, name changes … later we celebrate this moment in this magnificent fifth church. This church was built to the best of your ability to be as worthy as you can make it for Jesus Christ."
Naumann told those present during the service that such churches were not required by God, but creating a grand place for God in which to worship sent a strong message to the community.
"God does not need our churches," he said. "But rather, we need to give the best to God. We need beautiful churches that tell our community we give primacy to God over banks and shopping malls. Thank you, my good people, for building this church."
One of the reasons the members of Holy Angels have a new place in which to gather, Naumann said, is the guidance and determination of their pastor.
"I cannot say enough about the leadership of Father Al," Naumann said. "What a wonderful job Father Al has done in leading this community."
With these words, the entire congregation rose, with cheers and clapping hands in recognition of Rockers' commitment to Holy Angels.
"I think they like you, Father Al," Naumann said with a laugh. "And we're counting on you for many more years."
Rockers said he was thrilled with Sunday's service and the response he received from those who attended.
"It went very well," he said. "So many people exclaimed how beautiful the church was and how much they liked the interior decorating, so that was nice to hear."
Holy Angels will see some growth in the coming years, Rockers said, and now it has the room to welcome many more families.
"I don't doubt we'll continue to grow, especially with the Cerner Corporation going in at the Legends, with 4,500 job expected," he said. "We have more space now for hospitality and activities. Because that's really one of the most important things a church does: provide a hospitable place for everyone."
Holy Angels will have an open house for the community from 1 p.m. to 3 p.m. March 7 inside the new church, located at 15410 Leavenworth Road in Basehor. All are welcome to attend.