Don't let fear impede progress, Little Rock Nine member says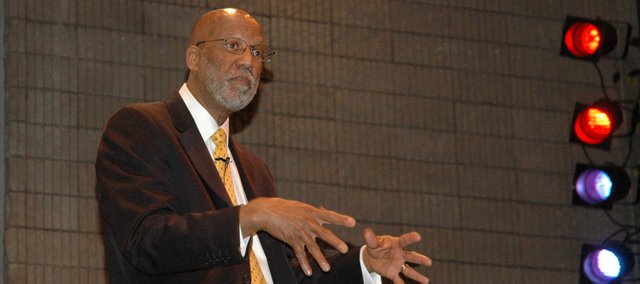 Angry faces, with mouths "spewing the most racist invective you might imagine," is just one of the memories Terrence Roberts has carried with him since his days at Little Rock, Ark., Central High School.
But the former member of the Little Rock Nine – a group of nine black students who in 1957 braved daily harassment in order to attend school with white students – also carries with him a sense of humor about those days and the days leading up to what would become another major turning point in the fight for equality in America.
"I figured it out, white people are crazy!" Roberts joked at the beginning of a talk Wednesday morning at Kansas City Kansas Community College campus. He was recalling the time before Little Rock Nine, when he was only 9 years old and trying to make sense of the segregated world into which he had been born. "I was so shocked really when I found out what was going on around me. I thought maybe I had gotten to the wrong place by mistake."
Roberts said he never did make sense of the injustice he saw around him, but up until the age of 13, he remembers following the status quo of the era in which he lived. He said the ever-present reminder of what had befallen Emmett Till, the young black teenager from Chicago who was the victim of a brutal murder in 1950s Mississippi – was enough to keep Roberts obeying the rules.
"I went to the back of the bus, I went to the back of the line, I accepted the indignities of clerks who would throw change at me rather than (touch my hand)," Roberts recalled.
All of Roberts' societal obedience changed however, when he was 13 and decided to sit at the counter where he wasn't allowed at a hamburger restaurant called the Crystal Burger.
"Everything in the Crystal Burger stopped … it was hamburgers in mid-flip," Roberts said. "The nonverbal message, however, was so palpable, you could feel it."
Roberts ran home crying that day, but decided then and there he wasn't going to follow the rules anymore. It would be a couple of years later that he would prove it again with the Little Rock Nine.
Roberts said the group started at the request of the district school board, looking for young black students who were willing to attend segregated schools in an effort to promote the desegregation that had been ruled unconstitutional in 1954 by the U.S. Supreme Court in the case of Brown v. Topeka Board of Education.
Roberts said there were originally 150 students who had signed up to be a part of the experiment.
"We would have been the Little Rock 150," he said. "Those numbers dwindled over time with fears and concern (from) the parents and the kids themselves."
And Roberts said they had a right to be afraid. He began attending Little Rock Central High School in his junior year, and he said he endured numerous beatings at school and threats to his life. He said the police department at one point showed up at his house to take his fingerprints – sure that they would eventually have to identify his body later.
Roberts learned what it was to be afraid that year, but he said he also learned how to cope with fear. He encouraged his student-dominated audience to never let fear impede their progress.
"Put that fear in your pocket," he said simply. "Keep on trucking."
He said he also learned that doing his best to avoid the fights throughout the year didn't make him any less of a man.
"I can usually take care of my manhood a little better by running to someplace safe, so it's not under attack," he said to laughs from the audience.
Through it all, Roberts' resolve to get his education never wavered – he said it was largely the support of his parents that kept him going.
He finished out his junior year at Central High, but the governor of Arkansas would later close all public high schools in Little Rock at the time of his senior year. Roberts moved to Los Angeles to live with family members, graduated from high school and went on to earn his Ph.D. in psychology from Southern Illinois University.
But he said Little Rock would always stand firm in his mind and in the minds of others as a reminder of how far this country has come and what level of equality it has yet to accomplish.
"We are now at a space where Little Rock is a symbol, sort of stand-alone marker in time and space for the rest of the countr
y," Roberts said. "They still have a long way to go."