Kansas Entertainment gets green light for new casino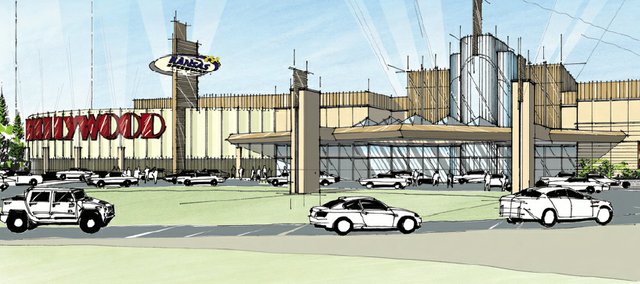 The final hurdle has been passed, and developers of the Hollywood casino overlooking Turn 2 at the Kansas Speedway in Wyandotte County are free to move forward with construction.
The Kansas Racing and Gaming Commission approved Friday the background check of Kansas Entertainment, a joint venture between International Speedway Corp. and Penn National Gaming. This will now lead to licensing by the gaming commission.
"Today's approval formally cements our role in the Wyandotte County community, and we are excited to begin working alongside our partner, International Speedway Corporation, and with local businesses to construct a distinctive, first-class entertainment facility and destination resort," said Peter M. Carlino, executive officer of Penn National. "Kansas Entertainment is committed to the long-term economic growth of Wyandotte County and the state of Kansas, and we believe the Hollywood Casino at Kansas Speedway will be a growth engine bringing over 1,700 construction jobs, over 1,000 full-time jobs and significant additional economic benefits to the Kansas City region."
Construction of the $385 million facility is expected to begin as early as the second half of 2010, with developers estimating a 2012 opening.
A $25 million privilege fee, which was collected by Kansas Entertainment last fall and held in a fund, was released Monday now that the contract is binding. The money went into the Expanded Act Revenues Fund for use by the state.
The initial phase of the new facility will include a 100,000-square-foot casino floor with capacity for 2,300 slot machines and 86 table games, a high-energy lounge and a variety of dining and entertainment options.
In the development agreement, the casino will also bring with it a second NASCAR Sprint Cup Series race to the Kansas Speedway.
Phase two will include a hotel, expanded gaming space, a spa, convention center and entertainment retail district. In the agreement with the state, the hotel phase is required to be built within two years of the casino's opening. If developers fail to do this, they've agreed to pay an annual fee of $2 million.
Bonner Springs Mayor Clausie Smith has been pushing for a casino in the county since 2003, his first year in office.
"I'm extremely pleased that the casino project has finally been approved. It will be tremendous for all of Wyandotte County," Smith said. "All three cities will share in a portion of the revenue thanks to our historic inter-local agreement, and it will also benefit school districts. The casino will provide many good-paying jobs as well as tax dollars, and this is definitely a win-win situation for Bonner Springs, the county and the state."
Edwardsville Mayor John "Tiny" McTaggart said with the arrival of the casino, he expected new housing and some retail and commercial development to be attracted to the north end of Edwardsville.
"I am very excited that the casino project is finally going to get started," he said. "With the addition of the Wizards and Cerner, we anticipate many new and exciting things for growth in Edwardsville and all of Wyandotte County."