Seaton is top 'Cat in Kaw Valley League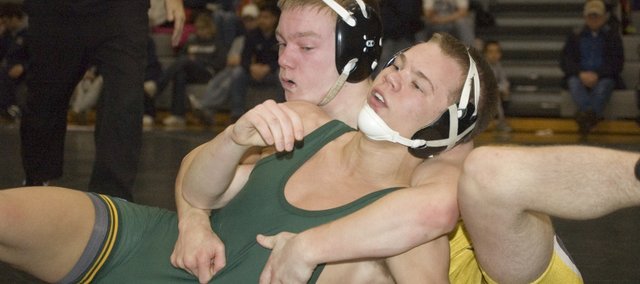 Symon Seaton's dominance continued Saturday.
He has dominated the wrestling competition since losing in the Bobcat Classic finals last month, and the Kaw Valley League Championships were no exception.
He won the tournament, which took place at BLHS, by defeating James Loman of Turner in the finals in a 12-2 major decision.
Loman recorded a reversal for two points in the first period, but Seaton controlled the rest of the match. He scored at ease and steadily increased his lead with takedowns and near-falls.
"He made one little mistake early in the match and got reversed," BLHS coach Ed Seaton said. "After that, we pretty much controlled the match."
Symon Seaton won his first two matches of the day by pin.
"He seems pretty focused since the loss at the Bobcat Classic," Ed Seaton said.
Seaton led Basehor-Linwood to a sixth-place finish at the tournament with 76 1/2 points.
Lansing won the tournament with 189 1/2, Turner was second with 137 and Bonner Springs landed in third place with 114.
In addition to Seaton's performance, the Bobcats had two runner-up finishes.
Mike Torrez placed second at 103. He had a first-round bye and won his next match over Justus Seaton of Bonner Springs, 9-1, to get into finals.
Torrez lost to Kevin Keller of Lansing, 12-6, in the title match.
"Torrez was wrestling aggressive in the match, but let his guard down and the kid reversed him," Ed Seaton said. "It was a good battle."
Joe Johnson also placed second at 160. Johnson lost to Tyler Baughman of Lansing, 4-2, in the finals.
The match was 2-2 in the final period, and both wrestlers had been warned by the referee for stalling. Baughman got Johnson in a headlock and scored a takedown for a 4-2 advantage.
"Joe was not expecting it and got caught," Ed Seaton said.
Johnson was unable to score and force overtime.
To qualify for the finals, Jonson defeated a wrestler from Piper in the first round and then defeated Kyle Brunson of Mill Valley, 3-2, in the semifinals.
Tyler Simpson placed fourth at 130. He lost in the third-place match by a 3-0 decision.
Injuries forced Derek Pike to settle for a fourth-place finish at 135.
After winning his first match of the tournament, 8-2, Pike lost in the semifinals and injured his elbow.
He won the consolation semifinals, but defaulted in the third- and fourth-place match due to the injury.
"He didn't want to risk further injury and wanted to come back for the regional tournament," Ed Seaton said. "He wrestled pretty good in the tournament, but there is room for improvement."
Other wrestlers who did not place in the tournament included Antonio Ferro who finished 1-2 at 112. Ferro lost to eventual league champion Bo Pursel of Lansing in the first round.
Ferro won his first match in the consolation bracket. He lost a close match that would have qualified him for the fifth- and sixth-place. He led late in the match, but got caught in a reversal.

"He lost a heartbreaker, which is a match he should have won. Hopefully he can come back at regionals, win a couple matches and make it to state," Ed Seaton said.
Zack Roberts finished 0-2. Dustin Williams also finished 0-2.
The light is at the end of the tunnel for the Bobcats this season. Basehor-Linwood wrestlers will vie for a trip to the Class 4A state championships when they compete Friday and Saturday at the Class 4A regional tournament at De Soto High School.
"We have two more weeks. We're looking at eight matches for a state championship or a place at state," Ed Seaton said. "For some of these wrestlers, their season might end this week or the next. It is up to them. (It's a matter of) how much do they want it. Hopefully we can get some of these kids in that have been on the bubble all year."
"We are going to condition hard, drill a lot on our feet. If you take a guy down, win the match, which is the most important at regionals and state."