Singers offer Valentines surprise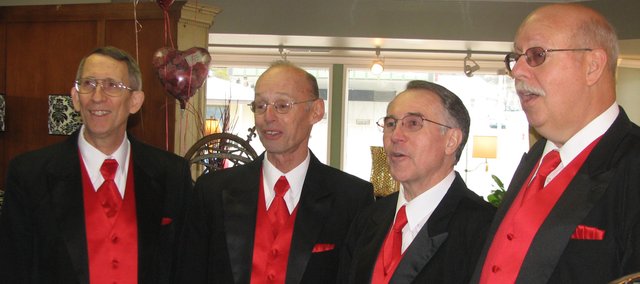 Several members of the Leavenworth County community had singing surprises this year for Valentine's Day.
Four male barbershop quartets from the Cody Choraliers chorus traveled around the area Friday, Saturday and Sunday to deliver singing Valentines.
Cody Choraliers quartets have been providing these melodious gifts for about 30 years, and the men say they are more than happy to carry on the tradition.
"It's just so much fun," Purely Harmonic member Al Fehlauer said. "I can't think of anything more fun to do with your spare time. Sometimes, I think we might get more out of it than the people we sing to!"
The Purely Harmonic quartet has been together for decades, with Fehlauer, Brad Cox, Jim Bliss and Bill Krondak making up the group. The men spent their Valentine's weekend handing roses and singing classic songs to people for $45 each, most of which will benefit schools in Leavenworth County. Cody Choraliers has another tradition of giving more than $2,000 each year to schools in the county, and singing Valentines are some of its biggest money makers.
One of Purely Harmonic's stops Saturday was the C.W. Parker Carousel museum in Leavenworth to deliver a Valentine to Loretta Schimke, a volunteer at the museum, from her sister, Jinny. Krondak handed her a rose, and the men broke into song as tears formed in Schimke's eyes.
"Oh my goodness that was just wonderful," Schimke said when the music stopped. "What a wonderful surprise."
Schimke's response is one the quartets see often, Fehlauer said, which makes the day that much more special for each singer.
"This is really a powerful, emotional thing," Fehlauer said. "That's why we usually bring Kleenexes."
But not everyone is initially pleased to see the four gentlemen donned in black suits and red vests coming toward them.
"We once had a delivery from a woman's husband, and she was in the shower when we got to their house," Krondak said. "We drove around for a little while and came back, and she was still in her robe with her hair wet. She said, 'Oh, I'll just kill him.' But you know, then we all have a laugh, and people do end up enjoying it, even when it can be embarrassing."
Bliss said one of his favorite memories of singing Valentines was when a little boy was in the room while the quartet sang to his mom.
"The songs do say 'love' a lot, and when we were done, the boy asked us, 'Why are you saying I love you to my mom?'" Bliss said with a chuckle. "He was old enough to know what 'I love you' meant, and he didn't think we had any business saying that to his mom."
With this holiday completed, the men of Purely Harmonic are already starting to look forward to next Valentine's Day when they will again take to the road, carrying smiles from loved ones to loved ones.
"It's the absolute most fun thing to do," Fehlauer said. "We just love it."