Snow, ice likely to continue all of Sunday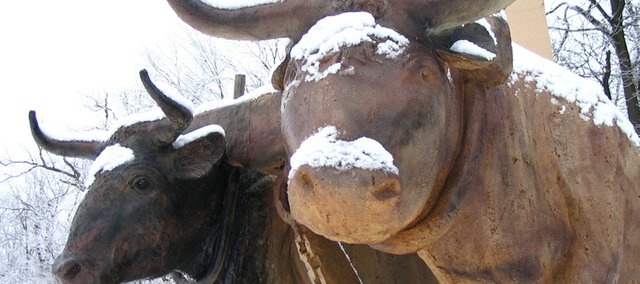 Another burst of wintry weather continues to pelt the area, this time bringing with it snow, rain, ice and sleet.
The Kansas Department of Transportation reported road conditions vary from wet/slushy (Johnson County only) to completely snowpacked/icy throughout many northeast Kansas counties. KDOT said because daytime highs are going to stay right at or slightly less than the freezing mark, the falling snow/sleet will stick to the roadways. As of mid-morning, KDOT reported gusting winds were causing blowing snow and causing poor visibility at times on roads.
Highways, including mainline lanes, ramp areas, bridges and overpasses, may be slick in spots due to the snowpacked/icy conditions. Officials urged drivers to use caution, drive slow, allow plenty of extra time, and stay a safe distance from other vehicles while travelling during the early morning hours.
The National Weather Service in Parkville, Mo., has extended a winter weather warning for much of the Kansas City metro and surrounding areas until midnight tonight.
Forecasters said rain, freezing rain, and sleet would continue to fall before noon, then turn over to snow and sleet and finally transitioning over to snow sometime today.
Forecasters warned snow could be heavy at times.
Wind also will be a factor. Northeast breezes between 15 and 20 mph, with gusts as high as 29 mph are expected.
The National Weather Service put the chance of precipitation at 100%. Total daytime ice accumulation of 0.2 to 0.4 of an inch is possible today with total daytime snow and sleet accumulation of 1 to 3 inches possible.
The snow is expected to taper off this evening, Monday will be mostly cloudy, with a high near 29. North northwest wind between 9 and 14 mph, with gusts as high as 21 mph.