Humane society advocating for better animal control laws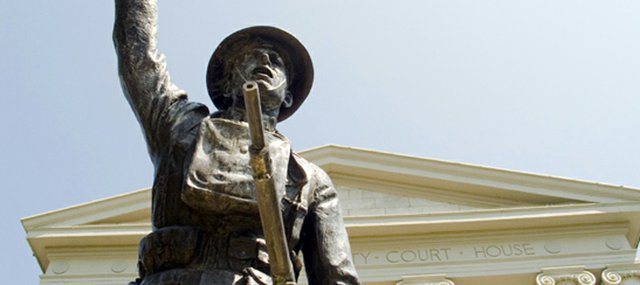 The conversation has started.
That was Leavenworth County Humane Society Director Crystal Swann Blackdeer's sentiment about her presentation Monday to the Leavenworth County Commission.
Blackdeer spoke to the commissioners that morning in an effort to begin a discussion on more efficient animal control in the county and to present a resolution the humane society drafted for such.
"The draft resolution you've been provided is not the answer," Blackdeer said. "It is merely a start point for discussion to establish standards to improve the quality of life in Leavenworth County for people and for pets."
Part of the reason for Blackdeer's resolution stems from the county's lack of action when it comes to stray animals. She said county resolution 2001-52 named the Leavenworth County Sheriff's Department, alone or in concert with other local or state authorities, the county's animal control authority. However, Blackdeer said the sheriff's department had stated several times it would not handle calls about stray animals.
"The humane society receives many calls from frustrated citizens who cannot get a response to their complaints of and concern for stray animals," she said. "If the resolution on the books says stray animals should be addresses, and that the sheriff is the animal control authority, who is going to do that if not the sheriff's department?"
Some of the items in the humane society's resolution are:
• Prohibiting transportation of animals in such a way as to present a hazard to public roadways
• Limits for the amount of time a dog may be tethered
• Mandatory rabies vaccinations for all dogs and cats
• Mandatory spay and neuter for all dogs and cats without a permit for breeding
• Required registration of animal abusers and notification of surrounding vulnerable and interested parties
Blackdeer told commissioners it was necessary to establish better animal control and care in the county, which would require hard work and cooperation.
"(The humane society) is committed to working together with citizens, government and law enforcement to enact and implement and enforce and uphold solutions and standards, to build a Leavenworth County where law-abiding, compassionate, contributing citizens want to live with their pets, where all animals are treated humanely and every pet had a loving forever home."
Some residents present at the meeting, such as Louis Klemp, said they were not in favor of giving the sheriff's office or the county more responsibility for animals.
"How many employees will be laid off if that comes about?" Klemp asked. "How many roads won't be maintained? I appreciate where (Blackdeer) is coming from…but I think if they're here during budget time, they'll see why the sheriff's office cannot do this. Do you want them out there patrolling for bad guys, or for dogs?"
Other residents said they were in support of the humane society's mission. One such resident who spoke at the meeting was Brendan Sheehan, said he was concerned about reports from customers of his business, Santa Fe Trails Bike Shop in Leavenworth, getting attacked by dogs.
"A lot of my customers come to me having been attacked by dogs, and they're shocked to find there's no laws to protect them," Sheehan said. "I know of at least 10 cases recently where people have been injured. I personally have witnessed dogs chasing cyclists and getting killed by motorists. Who is responsible for this? I wouldn't allow my dog to roam free in a situation where it could get killed or could hurt people. I think the idea of giving the sheriff the resources to work on the problem is a good start."
Commissioner Clyde Graeber thanked Blackdeer but said the current budget would not allow for such a large proposal to be enacted.
"No matter how much I might support this, I can't look at you in the eye and say it's going to happen this year," he said. "I am going to see if there are any steps we can take to alleviate this situation."
Commissioner John Flower echoed Graeber's words, saying the county just did not have the funds at this time.
"I see dollar signs all over," Flower said. "Simply having an individual to enforce that is $50,000 to $100,000. We've looked at this time and time again, and we're talking an excess of $2 million to have viable shelter. We don't have $2 million to spend on anything at this point in time."
Also at the meeting, the commission:
• Approved, 2-0 with Commissioner J.C. Tellefson absent, the minutes of the Feb. 18 meeting.
• Discussed the sheriff's department buying two new Ford Expeditions and 10 new Crown Victorias.
• Discussed etching a design into the courthouse's back glass doors to prevent people from running into them.
• Approved an update to the county's five-year plan with the Kansas Department of Transportation adding the bridge on Kansas Highway 19 to the plan.