Ag Hall organizes reopening strategy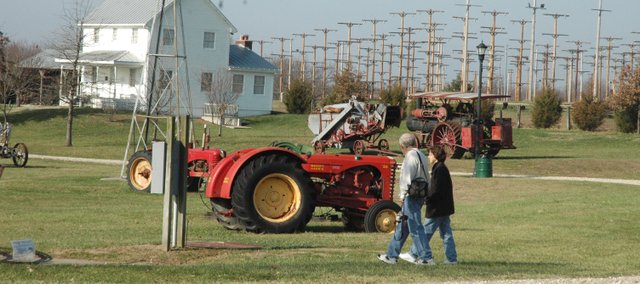 Despite financial difficulties that presented the possibility of closing its doors permanently, the National Agricultural Center and Hall of Fame is set to reopen for its new season March 16.
The center, 630 N. 126th St., Bonner Springs, closed in November 2009 for the winter. Cathi Hahner, who is heading the hall's operations committee, said there had been lots of work going on since then.
"Getting open and being prepared for the heavy school tours in the spring and the facility rentals have been what our focus has been on," Hahner said. "We've had a lot of work to do just to open up as a regular season."
Hahner said plans for the new season at the Ag Hall of Fame still would include events that had been a regular fixture, such as Tractor Daze and Santa's Express. The center also will be celebrating its 50th year, with a birthday bash set for August.
Last year, the center faced numerous hardships, including the resignation of the entire Ag Hall board of directors and layoffs of the center's entire staff , including chief executive officer Tim Daugherty. Hahner said when the center reopened, it would be run almost entirely by volunteers due to lack of funds.
"That will probably be it to open with, and then we'll certainly look as budget allows to be looking at other staff members," Hahner said, noting there was yet no definite plans to bring in another director or CEO for the facility. "I think they'll probably bring in somebody to manage the facility for a while. We're actually not in a position yet to bring a full staff back … we're going to rely on a lot of board members and volunteers for a lot of duties for the upcoming year."
Currently, Hahner said, the governing board is in the strategic planning process, which involves in part going over the finances and seeing what the board can do to bring in more financing in the form of donations. Hahner said the board has been talking with several different parties, and there are plans in the works, but she wouldn't give many definite details at this time until more solid plans are put into place. She did say, however, that the Deanna Rose Children's Farmstead facility in Overland Park has offered to allow one of the Ag Hall's pieces of farm equipment to be included as an exhibit piece on its grounds. Information included with the piece will tell patrons where the piece came from, in an effort to help get the word out that the Ag Hall is still an operating facility. Hahner said this has been one of the main problems and another major issue that will be addressed during strategic planning — getting the word out that the Ag Hall even exists.
"People come out here and they're just shocked at all we have here," Hahner said. "And that's the biggest problem — people not knowing that we're out here … so we just have to get the word out more so we'll have more visitors coming through the door."
Hahner said the operating budget for the season will be just at $325,000, but even with the lowered funds, she said the Ag Hall board and volunteers would make it work through admission, whatever donations it is able to receive and what Hahner said would possibly be a line of credit if need be.
"We're going to be fine until mid-summer, and hopefully everything will work out until that point," Hahner said. "It's going to be a tight budget year, but we have put in place a budget and it looks like the funds will be there for us to operate."
Dale Warman, Ag Hall board of directors president, said that, despite some rather tough times, the board was optimistic about the center's future and was looking forward to the upcoming season.
"I think we're excited about it," Warman said. "It's been a tough time financially with what took place with the board before us, but we're trying to get back on our feet and get the doors opened up."
The Ag Hall of Fame will be open from 9 a.m. to 5 p.m. Tuesday through Saturday, and 1 p.m. to 5 p.m. on Sundays. Admission is $7 for adults and $3 for children ages 5 to 16. More information can be found at the Ag Hall Web site, aghalloffame.com.