Basehor-Linwood students take to the stage in western melodrama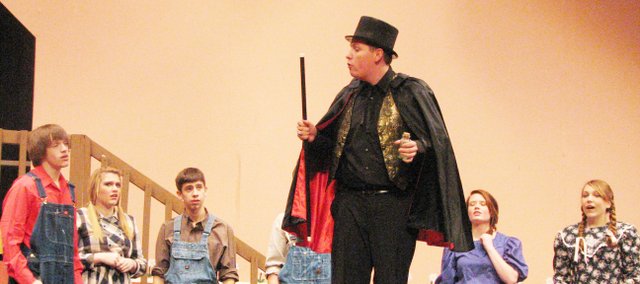 Though harsh winter weather impeded their Sunday performance, students at Basehor-Linwood High School put on quite the show during their winter play.
The selected piece, "A Snake in the Grass," is a western melodrama about a much-adored maiden in a small town who needs rescuing from the clutches of a fast-talking snake oil salesman.
Director Rebecca Knowles said she chose the play to provide her students with unique experiences on the stage.
"I like to expose students to as many different varieties of theater as possible in their four years of high school," Knowles said. "Our last melodrama was four years ago, so it was time to bring the villain, hero and heroine back to the stage. 'A Snake in the Grass' provided a fun script that suited the talents of our students at Basehor-Linwood."
Senior Christina Self played the cherished Dakota Melody, a role she said was different from others she'd had throughout her high school drama career.
"It's unlike other parts I've had, so that's pretty fun," Self said. "She's so sweet and innocent, and she has a southern accent, which I like doing."
Playing Dakota's knight in shining armor was sophomore Steven Coy as Sheriff Billy Bold. Coy said he enjoyed acting as the hero in the production.
"I like rescuing damsels in distress," Coy said with a laugh. "He really is bold. It's fun playing such a big character."
On the opposite end of the spectrum was Kevin McQuitty, who acted as the quick witted, evil villain Professor Silias Snakebreath. Snakebreath carries out such devious missions as tying Dakota to the town train tracks when she refuses to marry him.
The part was challenging for McQuitty, but he liked filling the shoes of such an interesting character.
"I've only done a few other shows, so this was a really great opportunity to do something different," McQuitty said. "He's totally unlike me, so that's where the acting comes in, that's where the challenge comes in."
All three students agreed one of the most thrilling aspects of drama was opening night, having people in the seats responding to the dialogue.
"It's such a different feeling than practice," McQuitty said. "You actually have an audience there, and everyone's focused and hyped up. It's so much fun."
The weekend productions were a success, Knowles said, though the Sunday show was canceled.
"The performances went very well," Knowles said. "Both the students on the stage and the audiences seemed to have a lot of fun. The audience really seemed to enjoy booing the villain and cheering on the hero. The audience became part of the show."
Basehor-Linwood is planning a make-up showing of "A Snake in the Grass" at 5 p.m. Sunday, Feb. 28.