Freseros moves to smaller downtown location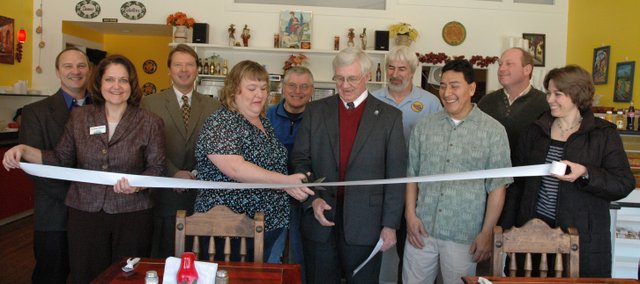 Freseros is open, for the second time around.
The Mexican restaurant moved to the location formerly held by Jet Fuel Coffee, at 224 Oak St. Owner Kathy Morado said the move wasn't because of any desire to expand. Well, not yet anyway.
"We decided to downsize and just to accommodate our regulars," Morado said of the decision to move her restaurant, which officially opened Wednesday, Feb. 10, and had its grand opening and ribbon cutting ceremony Tuesday, Feb. 23.
"I don't think I had enough business for the bigger place. And (the) better location. We're right here in the downtown strip."
The former coffee shop did offer Kathy Morado, who owns the business with her husband Miguel, one way to expand her menu, however. An espresso machine will now provide espresso coffee drinks, like café mochas and cappuccinos, and Freseros also offers a small breakfast menu each morning of either biscuits and gravy or chorizo – a form of Spanish sausage – and egg burritos.

"And as we go along, we'll probably add different things," Morado said of the breakfast menu. "But we're just trying to get the word out right now that we're open for breakfast and coffee."
As Morado's regulars know, the former Freseros was a sit-down restaurant where customers would be served at their table.
Morado said she had originally opted to change this milieu at her new location, making it more of a take-out restaurant where customers would order their food to go. She said this seemed like the best option with the smaller size of her business.
Her customers, however, were not in agreement, so Morado decided to revert back to the old, familiar way she had of conducting her business.
"I think they were used to what we were doing before," Morado said. "And we just went back to what we know. It's not good to change everything."
Morado said she was looking forward to running a more efficient business, with the smaller size, and being able to offer her regulars the consistent, great service they've become accustomed to. She is also hoping the downtown location will bring in more newcomers to her business so that, perhaps, she may expand in the far future.
As to the more immediate future, she is hoping the experience she provides is one that will bring people back time and again.
"I see the immediate future of us serving great coffee and great food to just people walking around downtown," Morado said. "Great coffee and great food – that's what we're working on down here. Just to have a cozy, café feeling is more what I wanted folks to experience."
Freseros is open 7 a.m. to 8 p.m. Monday through Saturday, and closed Sundays.
Freseros offers a variety of Mexican dishes, such as chimichangas and enchiladas, and it also serves specials each day.
Contact Freseros Mexican restaurant at (913) 441-4161.