Marble Crazy event to be crazier than ever
Marble celebratory event will bring 22 artists to Bonner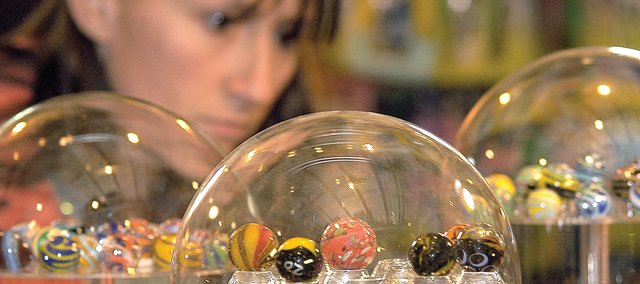 As the 10th anniversary of their Marble Crazy event nears, founders of the Moon Marble Company, Bruce Breslow and Lynda Sproules, are excited for what's to come.
With 22 artists signed up and ready for the event, the 10th anniversary is shaping up to be one of the craziest years yet.
"It's pretty exciting," Sproules said. "It's certainly grown from the beginning. We started with two to three artists the first year and have grown leaps and bounds. We're excited about all the people coming to see (the artists.)"
Sproules said she thought the event, which invites glass artists from across the country to Bonner Springs for a weekend of glass working demonstrations, was a neat opportunity for people to see how marbles and other glass artwork is made.
"It's always a good show," Sproules said. "It's always very interesting."
Sproules said the event would be similar to year's past with a few exceptions. Because of the anniversary year, there will be no single featured artist to put more attention on the company that started it all. Also, there will be no private preview prior to the public opening.
"I hope we have good turnout," Sproules said. "I hope the weather is good this year."
Breslow said he was looking forward to seeing many of the returning artists that have been crowd favorites such as Gateson Recko and David Salazar, but also for many of the new artists making their Marble Crazy debut.
Two of those new artists include Deanna and Greg Chase, from Louisiana, who are known for the city scenes that are created inside each of their marbles.
Another new artist will be Trey Cornette, from Tennessee, whose marbles look old and rustic, Breslow said.
"He also has matching beads and jewelry," Breslow said. "They look really nice."
All the artists have gone through a jury before being selected for the event, Breslow said, so the quality of work should be quite good.
"We should have a good showing," he said.
There will be several demonstration areas set up for people to watch up close how much work goes into each marble. Two of the demonstration areas will have cameras connected to television screens for an even closer look, and one demonstration table will be set up with microphones so artists can walk viewers through the process.
Not only does Breslow hope the people in attendance enjoy the demonstrations, but he also said he hoped to have time to enjoy the event himself this year. For most years, Breslow said he has run around organizing everything. He hopes this year to take in the show and have a fun weekend.
"I think it's nice," he said. "I look forward to it every year. This year hopefully I'll have more time to watch the artists work and get to know everyone."
Marble Crazy starts noon to 9 p.m. Friday, March 5 and continues from 10 a.m. to 5 p.m. Saturday, March 6, at the Moon Marble Company, located on Kansas Highway 32, just west of Kansas Highway 7.
There will be a bonus event from 9 a.m. to 3 p.m. Sunday, March 7, in the ballroom of the Holiday Inn, 101 W. 151st, Olathe, when the Kansas City Marble Club will play host to the marble collectors show. Artists and collectors will have their work on display, and antique and contemporary marbles will be for sale.
Admission to both events is free. For more information, go online to moonmarble.com or call (913) 441-1432.