Seaton eyes state championship
Top-ranked junior leads five
BLHS

wrestlers to 4A state tournament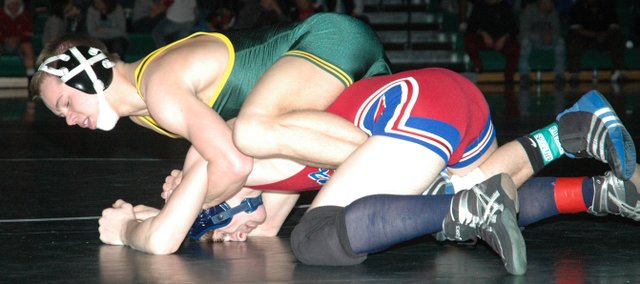 Symon Seaton completed all necessary requirements for the state tournament last week, capturing a Class 4A regional title.
The Basehor-Linwood wrestler has developed an impressive resume of accomplishments for the 2009-10 season.
Lets review.
Seaton has 30 wins to his credit — so far. He won numerous tournament titles and was a finalist at the always-tough Bobcat Classic. He has taken his two defeats in stride, learned from them and improved. He won a Kaw Valley League championship, and Saturday at De Soto High School he won a Class 4A regional title.
Seaton made quick work of his opponent in the regional finals, defeating Tim Wright of Eudora with 33 seconds left in the first period.
He scored early points in the match and then recorded the pin.
The regional title assured Seaton of a high seed at the state championships, which will take place Friday and Saturday at the Bicentennial Center in Salina. Seaton will enter the tournament as the No. 1 ranked wrestler in the state at 125 pounds, making him one of the favorites to win a state title.
The wait is over for Seaton now. He has waited all season for a chance to wrestle in this tournament and has enjoyed the ride.
"That is what we have worked for all year," he said. "(I've had) no social life; I am just focused on doing well at state."
Seaton is one of five wrestlers who will represent Basehor-Linwood at state.
As a team, the Bobcats finished fifth in the team standings at regionals with 104.5 points. St. James Academy won the team title with 158 points, a half-point ahead of runner-up Eudora. Baldwin finished third with 148 and Louisburg was fourth with 136.5. While team places are relevant to a degree, the nucleus of wrestlers from BLHS are simply happy to be qualified for state.
Each wrestler had a different path to Salina.
Mike Torrez, 103 pounds
The music of Red Jumpsuit Apparatus blared in his ears as Mike Torrez prepared for the championship match Saturday.
Torrez had rolled through the competition in earlier rounds to ensure a trip to state, and now wanted to win a regional title.
He wanted to earn a high seed at state.
In warmups, he couldn't stop running and jumping around.
Then the match started and Torrez squared off against Bryce Shoemaker of Baldwin.
Shoemaker took control of the match early with a takedown. Later, Shoemaker caught him for a pin.
"I think that I should have done better, but he is good," Torrez said. "I make some mistakes, but we can work on those to get better this week and come back next week at state."
Torrez enters the state tournament with a 21-5 record. This is his third time qualifying for state.
Tyler Simpson, 130 pounds
Simpson read the message boards last week that predicted he would finish fourth in the regionals and worked to prove the pundits wrong.
He did on Saturday, placing third in the 130-pound weight class and qualifying for state. In the third-place match, he pinned his opponent with 51 seconds left in the third period.
Of the five wrestlers who qualified for state on Saturday, none relished it as much as Simpson.
He would have qualified last season, but a shoulder injury cut his season short. This season he was sick and then injured a shoulder in the Bobcat Classic. He wasn't sure whether he would get to wrestle again this season.
Now he is going to state.
"It feels great, it feels like working with Symon has paid off," he said. "Symon, Joe, Derek and I all wrestle against each other and it has made me better."
Derek Pike, 135 pounds
Derek Pike qualified in the 135-pound weight class, placing second.
He lost in the championship finals to Josh Hanson of Baldwin, 5-2.
Hanson took the lead early in the match, and was able to hang on for the victory. At times, Pike wanted stalling called against Hanson, but none was granted.
Pike handled the competition easily before the finals match, though, winning his first two matches by pin.
Joe Johnson, 160 pounds
Joe Johnson said he hopes he feels better at state this week.
He was sick throughout the regional tournament and struggled in some matches as a result of it. After losing to a wrestler from Paola in the semifinals, he managed to place third in the tournament.
He defeated a wrestler from Ottawa, 11-4, in a consolation match and finished third in the tournament.
He controlled the entire match.
"I was a little nervous after he lost in the semifinals, but he came back and did a nice job of coming back and taking care of business," coach Ed Seaton said.
Johnson said he is pleased to return to state — his third time qualifying in four years.
"I am happy with third," he said. "At least I am going back to state. This week in practice we have to push harder than we have all year."