Basehor mayor shares 2010 city plans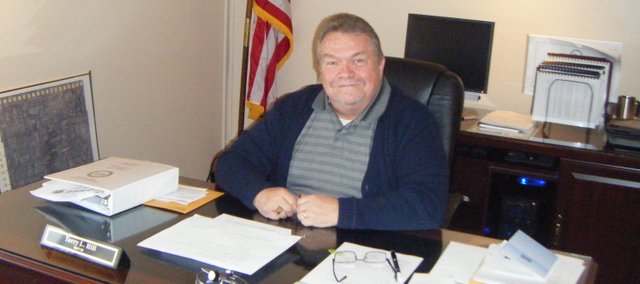 With 2010 in its first week, many people are making and beginning to act on their New Year's resolutions. And Basehor Mayor Terry Hill has some resolutions of his own.
Hill has devised several goals he has for the city which he would like to see occur throughout the year.
The top two items on Hill's list include promotion of and marketing for Wolf Creek Parkway and the city's newly implemented tax rebate program.
"Those are obviously two very major things," Hill said. "I want to find different ways to generate interest in the Wolf Creek Parkway area and keep engaging all the resources I have available to promote it. We also want to reach out to agencies in the area like the chamber of commerce to start promoting our tax rebate program and get the word out that Basehor is a really nice place to live and do business."
Along with these two goals, Hill would like to see some enhancements made to the Basehor City Park.
"During Dairy Days this summer, we heard several people say the park had less than adequate electrical capability to do all the things they wanted to do," Hill said. "Also the area we have for parking has that one-lane entrance, which creates a traffic jam."
With the use of some additional land surrounding the park, Hill envisions play parks built to give residents and families more reasons to visit the park regularly.
During 2009, Hill said he and the Basehor City Council had received numerous complaints about debris on lawns in the city or lack of yard upkeep, and it was his goal to more strictly enforce the city's codes on such nuisances.
"We really need to be proactive about improving the visual attractiveness of the city," Hill said.
Recent snowfall also prompted another of Hill's city resolutions. He said he would like to prepare an emergency snow removal plan, creating snow routes throughout the city that would prohibit residents on certain streets from parking their cars in the road.
"When I drove around (after it snowed), I saw some streets where cars were parked on both sides, and the plows couldn't even fit through," Hill said.
In addition, Hill intends to push for uniform speed limits in the city, establish better animal control policies, including the creation of a temporary animal shelter to solidify Basehor as a no-kill city, and promote volunteerism within the community.
As Hill reflects on his nearly nine months in office, he is proud of the way the staff and council have been working together and sees his set of business skills as having been beneficial to the city.
"I view the staff and functionality of the city with business professionalism," Hill said. "That's what I know, and so my approach has been to run the city like a business with cooperation and professionalism."