Cancer battle adds surprises to life's tapestry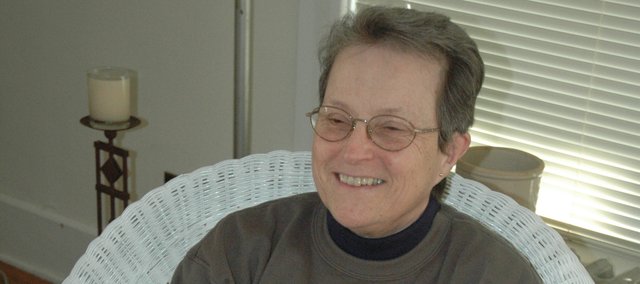 Looking back at the last year, Rae Sedgwick is ready for a new start.
After battling breast cancer since September 2008, the Bonner Springs resident and Chieftain columnist is resolved to move past one of the most trying times in her life and look forward to what lies ahead.
"This will not define me," said Sedgwick, who has a private psychology practice in Bonner Springs.
Sedgwick's journey began when she discovered her cancer during a routine self breast examination, during which she said she found a lump that felt like a peach pit.
"I said to myself, 'this is not good,'" Sedgwick recalled.
For the first day following the discovering, Sedgwick said she convinced herself it was a pulled muscle from strenuous cleaning the previous day. Eventually, she said, she couldn't fool herself any longer and went to the doctor.
From that point on, Sedgwick knew something wasn't right and her first doctor telling her that it was a normal growth was not acceptable.
"I said to myself that it was more than that," she said.
From there she went to a specialist at the Kansas University Breast Cancer Center. After her appointment in the morning, she had a biopsy that day and then waited for the results.
A few days later on Saturday, Sedgwick got the call that would send her down a path full of pain, surprises and triumphs.
"The doctor called and said, 'is this a good time to talk?'" Sedgwick said. "Surgeons don't call on Saturday to just talk. I told her I needed 30 seconds. I set the phone down, got slightly nauseous, then I got a pencil and paper and said, 'tell me what I need to do.'"
And that's how she handled the rest of the year. List after list, Sedgwick knew the game plan and was prepared for what had to be done. First there was surgery to remove the growth, then came chemotherapy, a round of radiation and a final strike with more chemotherapy.
While the medical side of her illness was no doubt painful and tiring, she said there were a few weaker moments that knocked her off guard.
As the chemotherapy began its attack against her cancer, the usual side affect of hair loss set in. She got it cut into a shorter style, preparing for what was to come. But it was the morning she found herself vacuuming her pillow from all the hair that had fallen out over night that she decided to take a drastic step.
That day she went into the salon and said, "I need to shave my head."
She was strong almost all the way through the cut, but felt herself falter near the end.
"I thought I was fine, whatever that means. But then I felt something welling up," Sedgwick said about rushing herself out of the salon following the appointment before a public display of emotion erupted.
When she reached her car, Sedgwick said she sat in the driver's seat and looked up into the rearview mirror at her newly shaved head.
"I sat in the car for 45 minutes balling my head off," she said.
Looking back on the experience, Sedgwick said this moment of her treatment surprised her as she never expected it would be her hair that brought her fear and emotions to the surface.
"I'm still mystified by that reaction," Sedgwick said.
Her second surprise came during the Relay for Life fundraiser in June. It was the first year Sedgwick had participated and since she was still in treatment, she wasn't considered to be one of the survivors at the event just yet.
"I remember the sunset, the light was so silver," she said about making her first walk around the track with the rest of the participants.
A wave of emotion hit, and Sedgwick found herself once again trying to stay strong during a moment she never saw coming.
"I don't know why is was so hard but it was hard," Sedgwick said of attending Relay for Life. "I guess we all have vulnerabilities we don't know."
While her cancer consumed her life for the last year, Sedgwick, who has a nursing degree, a doctorate in psychology and a law degree, said there is so much more she's done and plans to do with the life she's been given now that she is done with treatment and her cancer is in remission.
"I don't know what I'll take from this," Sedgwick said of her battle with cancer. "I don't see life as segmented. It think of (life) as a tapestry woven with different colors. I think probably this last year will be another dimension of my tapestry."