Neighbors: Wes Mills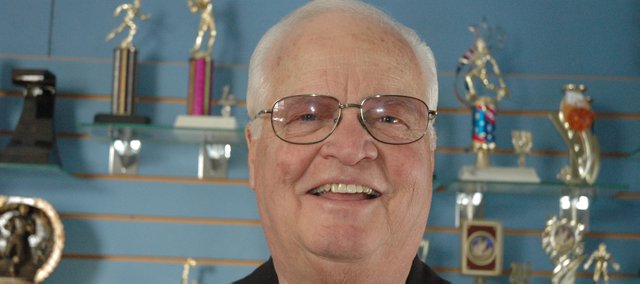 Wes Mills
Occupation: Owner of Mills Trophies and More; new member of the Bonner Springs-Edwardsville Area Chamber of Commerce
Place of birth: San Jose, Calif.
Family: Wife, Beverly; son, Larry; daughter, Nanette; stepson, Jeremy Studt; stepdaughter, Jennifer Studt; grandchildren, Grant, Kennedy and Kami
Q: When did you move to Bonner Springs, and what brought you here?
A: 1994, it was a job change and marriage to Beverly. She lived up here, (and) teaches at Clark Middle School.
Q: What's the biggest risk you've ever taken?
A: I organized my own calf-roping event with the 40 top ropers on the rodeo circuit. It turned out real good. It was a real good event.
Q: What's the best piece of advice you've ever been given?
A: You only get out of life what you're willing to put into it.
Q: What three things would you want people to know about you?
A: I don't like to lose, and I'll always give you my best, and I eat and sleep golf.
Q: What did you want to be when you grew up?
A: I just wanted to be successful. But I guess being a golf professional would have been in there, too, because I was a golf professional for awhile.
Q: What's your ideal vacation spot?
A: Colorado and Lake Tahoe
Favorites:
Song: "House of the Rising Sun," by The Animals
Color: Blue
Food: Seafood