Warhol: Union Station exhibit pays homage to famed artist's 'Life and Legends'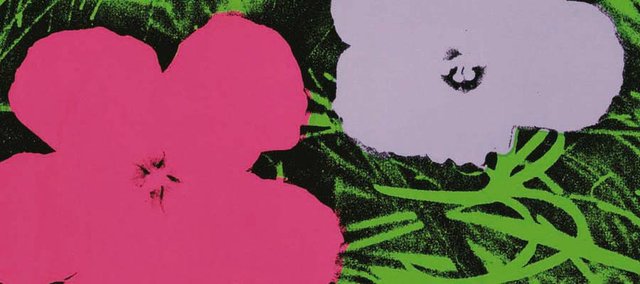 Noted artist and filmmaker Andy Warhol once said everyone would be famous for at least 15 minutes.
Warhol's own fame, both during his lifetime and posthumously, have extended much longer then that as the world knows, and many of the works that comprise the root of that fame are on display at Union Station in "Andy Warhol Portfolios: Life and Legends."
The exhibit spans the 40 years Warhol spent working on and perfecting his own silk-screen versions of the form of art known as pop. It includes iconic works such as "Marilyn," a screenprint on paper of the famous actress he created in 1967, and the "Birmingham Race Riot," a photographic silk screen he created in 1964. It also includes lesser-known works, such as Warhol's "Endangered Species" series, created in 1983. The whimsical "Andy Mouse" series, a 1984 collaboration between Warhol and influential artist Keith Haring, is also in the collection. The series, project manager Christopher Leitch says, offers an animated take on the legend surrounding Warhol throughout his lifetime.
"Because Andy Warhol was really kind of boring as a person," Leitch said. "I think Keith Haring was poking fun at the myth of Andy rather than Andy himself. There's this beautiful story Andy created around himself … when really he was this quiet workaholic."
Leitch said the 84 works in the exhibit give visitors a taste of what Warhol was all about.
"This is really an examination of the career and interests and conceptual themes of one of the best-known artists of the 20th century though a representative sampling of his work," Leitch said. "So it's a way for (the visitor) to take a tour of his career through these 84 works."
The exhibit is organized by time frame, with some of Warhol's earliest works seen when first entering the space, to his later years of work seen further into the gallery. Plaques on the wall offer a brief synopsis of some of the main events in Warhol's life, from his entrance into the Carnegie Institute of Technology in 1945, to his attempted murder by "SCUM Manifesto" writer and feminist Valerie Solanas in 1968.
The foyer leading into the gallery is a send up to Warhol's "Factory," his New York City artist's studio in the 1960s, which coupled as a gathering place for celebrities and musicians. Music plays while strobe lights dance across the walls that contain some of Warhol's most famous quotes, such as "I've never met a person I couldn't call a beauty."
"As much as he was an image maker and a commercial illustrator and had an eye for style and color, he was also a very witty man," Leitch said of Warhol, noting that the use of quotes in the exhibit helped to give visitors an even greater impression of who he was as an artist. "He didn't fancy himself to be an intellect, but had a habit of saying very memorable things."
All the works are on loan from the Bank of America, and the exhibit will be traveling across the country. Leitch said Union Station was one of the exhibit's first stops.
"… They're just beginning to tour it, so it's really a rare treat to see it," Leitch said, noting that all of the works had formerly been hidden away in office buildings. "They're having a coming out party."
Leitch said Warhol has become such a part of the current cultural landscape that visitors to the exhibit will find themselves familiar with works they may not have realized they had seen before.
"Because he created works in a visual style that was much copied, and his works are still very widely published, you really can't go a week without seeing something about Andy Warhol or his work in a newspaper or magazine," Leitch said. "If you thought you were going into something new … I think you would be reminded of how ubiquitous his influence has been on 20th century culture."
"Andy Warhol Portfolios: Life and Legends" will be on display through Jan. 10. For more information about the exhibit, visit unionstation.org.