BLHS

basketball tournament stacked with top-tier teams
Basehor-Linwood boys basketball coach Mike McBride remembers the early days of his coaching tenure at the school.
He had goals he wanted to accomplish. Winning a state title was a goal, but not the first on the list.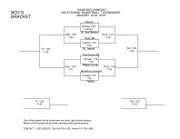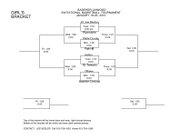 When the Basehor-Linwood Basketball Invitational would arrive, his team entered into survival mode playing in an extremely competitive field.
"The first two years here I just tried to win a game," he said. "You knew coming into (the tournament) you might not win a lot of games."
For a long time people wondered why the Bobcats made the tournament field so competitive. Would it be easier to lessen the level of competition and win more games? The Bobcats, though, believed playing against top teams would benefit them.
"To get to the top, you have to play the best, and that is how we tried to set up the tournament," McBride said.
The tournament also allowed McBride to watch how elite programs perform. He was able to watch them play and see what they did to be successful.
"I did a lot of scouting games and teams then," he said. "I wrote a lot of stuff down."
Fort Scott was the defending state champion during those years and played in the tournament. McBride said he learned a lot from watching them play.
"Just watching their mentality, how the kids moved," he said. "A lot can be learned from that situation. Definitely, it helped us out as far as what we need to do to get to the top."
Fast forward a few years later and the Bobcats have climbed the ladder. In addition to winning the Class 4A state title, the team is the two-time defending tournament champion. They have won the tournament, though the field remains as tough as ever. That won't change this season, either.
Most of the teams in the tournament have a winning record. Ottawa is undefeated and ranked No.1 or No. 2 in various Class 4A state polls.
"Ottawa is a good team and very poised at the guard spot," McBride said. "They can flat light it up. They have a lot of athleticism and have a player who plays above the rim."
St. James Academy is also in the tournament, and has had a bit of a rough start, but boasts an NCAA Division I recruit in sophomore Clint McCullough.
Park Hill (Mo.) is an improved team this year. Holton has two losses. St. Joseph (Mo.) Benton, Platte County (Mo.) and Pembroke Hill (Mo.) are improved teams this season.
"We are just trying to get as many good games in as we can," McBride said.
BLHS activities director Joe Keeler said the school's goal is to make the tournament as competitive as possible because good teams want to play against good teams, and his goal is to continually find good teams to compete in the tournament.
Tournaments where the field might not contain as strong of teams and those designed for the home team to pick up victories and play in the championship tend not to last as long and struggle to keep teams returning. Currently, BLHS has a waiting list for teams wanting to join the tournament.
Hospitality also plays a role. Keeler said school staff, parental support through the booster club and community support have made the tournaments a success.
A lot of the credit should go to Keeler, BLHS girls basketball coach Noah Simpson said.
"Mr. Keeler just tries to run a top notch tournament with the best teams he can find," Simpson said. "Why a lot of teams come back is because it is run effectively and has great competition."
Simpson is excited that the boys tournament field isn't the only one that's competitive. The girls' bracket will be equally difficult.
The field is stacked with top area teams and three have undefeated records.
St. Joe Benton is 10-0, Holton is 6-0 and Ottawa is 6-0. Holton and Ottawa are ranked in the Class 4A poll.
St. Joe Benton is ranked in Missouri.
Along with these teams, Platte County is 9-1 and Park Hill is 7-2.
Basehor-Linwood enters with a 3-4 record. The remaining teams, St. Teresa's (Mo.) and Wyandotte, each have one win this season.
The strength of competition is what Keeler and the coaching staff wanted when designing the tournament.
"It is what we hoped for," Simpson said. "A midseason tournament replicates the substate or state tournament. We have good teams in the tournament who are well coached.
"We go into the tournament with the goal to get two wins and try to win it. It is a chance for us to learn and see where we are at midway through the season."