Small-town girl makes it big in business world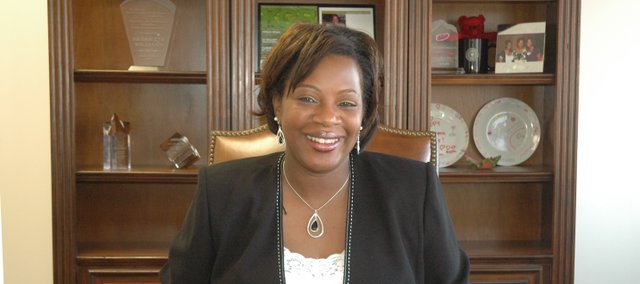 Growing up in a small town can often pave the way for great success later in life.
Bridgette Williams, who grew up in Edwardsville, is a testament to this theory.
Williams, who attended Edwardsville Elementary and Bonner Springs High School, was elected president of the Greater Kansas City American Federation of Labor-Congress of Industrial Organizations in 1996. She was the first woman in the country and the first black woman in the Kansas City metropolitan area to be elected to this position – a significance she takes very much to heart.
"Being a trailblazer is not easy, but it has really been nice to see the broader representation of women around the country," Williams said. "It used to be when I first was elected to the position, most times I was not only the only woman, I was the only person of color in the room. So to have seen that expansion and growth over the years brings hope to the fact that labor movements really are starting to reflect the people they represent."
A change of titles
As president of the AFL-CIO, Williams represented more than 100,000 men and women in the greater Kansas City area. Her duties, she said, ranged from writing policy to handling political endorsements and the day-to-day political issues that are involved in the labor unions the AFL-CIO represents.
Now, Williams will take on a new challenge. She decided to step down from her position as AFL-CIO president last year and will serve as the new deputy director of the Heavy Constructors Association of Greater Kansas City.
"This is the management side," Williams said. "This organization represents the contractors, which employ the union members of the unions the AFL-CIO represents."
Williams said her most immediate challenge in the new job title would be helping to get a new federal transportation program to both Kansas and Missouri.
"I think it's a necessity, particularly as we talk about the recession and the job loss," Williams said of getting a new transportation program. "In any economic downturn, it's generally economic development that pulls you out of it, so I think it's a necessity in terms of moving out of this economic downturn … The struggle will be the funding, particularly as they have to figure out where the budget cuts occur. If the true commitment is there to turn the states around and come out of this economic downturn, then the funding has to remain and, one can argue, increase to move forward."
a different direction
Williams wasn't always heading the organizational backbone of labor unions in Kansas City. After graduating from BSHS in 1986, she went on to Pittsburg State University, where she ran track and majored in broadcast journalism. She remembers covering George H.W. Bush's campaign for president and later interning at KCTV 5 News in Kansas City.
Despite these experiences, she says she felt a rising sense of disenchantment with her chosen field.
"It was just not a good fit for me," Williams said. "It was difficult to sort of really move through the organization to have that opportunity to really get to the position of broadcaster in larger markets like Kansas City and higher. So by the time you really sort of learn the business and get to that point, those opportunities just weren't there at that time."
"So I decided to go into the labor movement, where there were no women in leadership," Williams added with a laugh.
Before she became a forerunner for women, however, Williams was a part-time receptionist with the AFL-CIO, eventually moving up to director of the Committee on Political Education and to her later elected position as president, a position she would hold for three terms, at the age of 27.

"I feel a sense of pride in that, as a 27-year-old African American female, leaders in the labor movement saw the talent and were willing to take a risk that this young person could lead a large labor movement, and that they gave me the support necessary … and what it speaks to is that there's really an openness in Kansas City; that it's really about the best person for the job."
Small town lessons
Williams credits her formative years in Edwardsville and Bonner Springs as being largely responsible for who she is today. The encouragement from her teachers and the way she was raised by her parents, she said, gave her solid foundation from which to jump to the heights she has reached today.
"I think growing up in a small town, particularly as an African American in a predominantly white area, it helped me to learn to work with people," Williams said. "My parents raised you to know that all people were created equal and that you shouldn't let (the color of your skin) prevent you from being successful. And I think that having those roots in a small town was very important."
Williams said another major challenge she would face during the coming year would be making sure construction continued on road, sewer and bridge projects to keep money in workers' pockets. Having only started Jan. 4 in the position, she attaches to the year ahead a combination of being overwhelmed about the new job and being more than ready to take it on.
"There's always room for growth, and the minute you know everything, you stop living," Williams said. "So I definitely have a lot to learn. But I think my past experiences and accomplishments have definitely equipped me for this next challenge, and I'm looking forward to it."