Defense fuels Mill Valley in 53-42 victory against Lansing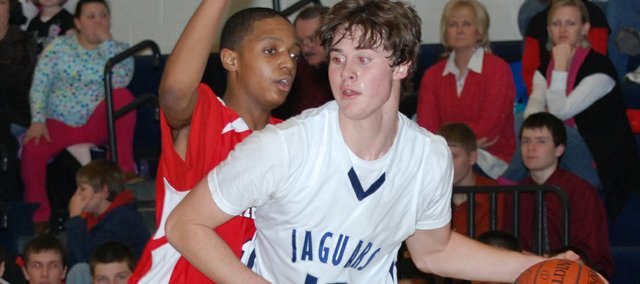 Constant effort is something Mill Valley boys basketball coach Justin Bogart has been demanding from his team this season.
Photo Gallery
Mill Valley boys take down Lansing
He wants it for the full 32 minutes, nothing less, and so far that effort is coming in spurts. On Friday night when MVHS played host to rival Lansing, however, the Jaguars came pretty darn close to giving their coach the complete game he's been looking for — on the defensive end at least.
Mill Valley held Lansing to just three field goals through three quarters — the Lions were 3-for-25 from the field and 15-for-21 from the free throw line after 24 minutes — and the Jaguars won, 53-42.
For a team that is still trying to find its identity on offense, Mill Valley is finding that it has pretty sturdy footing on defense.
"We all know our roles on defense," junior Taylor Reinoehl said. "We're always trying to get in their face. Coach is a preacher of defense. We're always working on that in practice."
Mill Valley's full-court press and aggressive man-to-man defense proved to be the difference. Lansing never was able to get into an offensive rhythm, and Mill Valley did just enough of the little things right offensively to compliment its defensive effort.
Everything flowed through Reinoehl, whether it was on the offensive or defensive end. As the Jaguars' lone returning starter this season, the junior struggled early in the season as he tried to carry more of the load. Against Lansing, he attacked when the opportunity arose on offense, but he also deferred to teammates when they had open looks.
Reinoehl slashed to the basket for a floater that gave the Jaguars a 2-0 lead in the first minute. Lansing countered with three free throws from Brian Beall for a 3-2 lead, but a Reinoehl layup with 5:08 left in the quarter gave the Jaguars the lead for good.
Lansing stayed within striking distance for the rest of the first half, but Mill Valley never lost its grip on the lead. Rebounding had plenty to do with it, whether it was J.J. Bebel scoring on multiple put-backs or Tyler Gude controlling the defensive glass and rarely allowing Lansing a second chance to score off of a miss.
At times, Lansing had trouble even getting past midcourt against the Jaguars' press. Bebel, Reinoehl, Jarrett Curtis and Quanzee Johnson hounded the Lions and forced numerous turnovers that led to points at the other end.
Mill Valley led 10-7 after the first quarter and held a 22-16 advantage at halftime despite having 15 turnovers on the offensive end.
The Jaguars took command early in the third quarter. Five different players scored during a 9-0 run that boosted the lead to 31-16. The teams traded points for the rest of the quarter, and MVHS carried a 37-23 lead into the final period.
Reinoehl scored off of an inbounds pass and drew a foul to start the fourth quarter. His ensuing free throw gave Mill Valley its largest lead of the game at 40-23. At that point, Lansing finally found a temporary cure for its offensive woes. The Lions made six field goals in the final quarter and took numerous extra trips to the free throw line. A layup by Beall with 1:38 left brought LHS within six points at 48-42 and capped a 17-8 run, but Mill Valley put the game away at the line as Austin Muckenthaler and Kendall Short knocked down late free throws.
Overall, Bogart was happy with the victory, but he wasn't pleased that his team took so long to finish off the victory after building a large lead.
"We just need a more consistent effort out of everybody," he said. "We're stating to get more consistent, we're starting to trust each other more and more, but we still have a lot of room to improve."
Mill Valley went 17-for-37 from the field and 18-for-29 from the free throw line. Reinoehl led all scorers with 18 points, Muckenthaler and Bebel each had 9, Gude scored 8, Short had 4, Curtis scored 3 and Mark Biesma added 2 for the Jaguars (3-3 overall, 3-1 Kaw Valley League).
Beall led Lansing with 9 points, Calvin Schneider and Sloan Blain each had 7, Izaiah Grice and Colby Gwartney scored 6 apiece, Clay Young had 3, and Matt Stratton and Lucas Mein each added 2. LHS dropped to 4-4 and 2-2.