Cerner/Wizards development agreement to be voted on tonight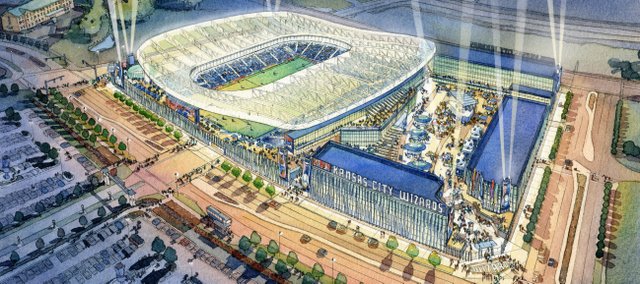 The Unified Government of Wyandotte County/Kansas City, Kan., will vote tonight on a final developers agreement to construct a Wizards soccer stadium and Cerner office campus in Kansas City, Kan.
The special meeting will be at 5 p.m. today, Tuesday, Jan. 19, in the commission chamber of Kansas City, Kan., City Hall, 701 N. 7th St., Kansas City, Kan.
The development agreement calls for the construction of a $414 million campus that would include a 18,000-seat soccer stadium and an office campus that will house 4,000 new jobs near the Legends at Village West shopping center and Kansas Speedway.
The office campus will provide for the future expansion of Cerner Corporation, who intends to start construction on their first building in 2011 and hit the target of 4,000 new jobs by 2016.
The soccer stadium is set to be complete by the 2012 soccer season.
The project is being developed by OnGoal LLC, the owner of the Kansas City Wizards, and Lane4 Property Group. The cost will be subsidized with $85 million in state tax credits and $147 million in STAR bonds and private investments.
Check back with Thursday's edition of the Chieftain to find out more details about the agreement and to find out if the agreement passed at the special meeting.