AG

: Work continues on consumer fraud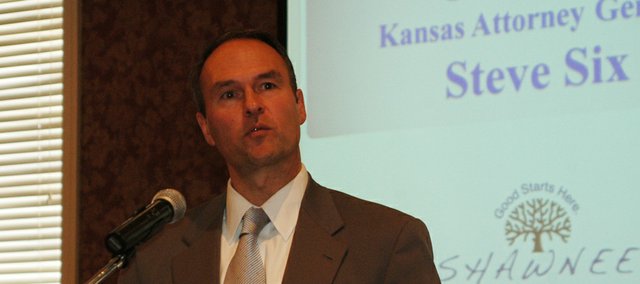 The Kansas Attorney General's Office has made some significant progress in the fight for the rights of the citizens and the state.
Kansas Attorney General Steve Six spread this message as he spoke Jan. 13 at the Shawnee Chamber of Commerce's monthly luncheon, describing how the office has worked for Kansas residents in the past two years.
Six noted the office has been better known recently in the press for his predecessors' activities than its services, referring to former Attorneys General Phill Kline and Paul Morrison.
"It got the office in a challenging spot," Six said. "If you've ever managed a business, and you can imagine the leader of the business being involved in a lot of controversial topics that maybe diverts you from your core missions, and then the CEO is sort of dead in the water for a while and then has to step down, that brings all kinds of challenges with retaining employees, with following through with cases that need to be filed."
Six said when he was selected as Morrison's replacement two years ago, he had a lot of work to attract employees and make it an "exciting" place for lawyers to come work, because the office can't compete with most law firms' salaries.
Six described how the office works to advance new laws, prosecutes cases across the state in those counties that do not have district attorneys and works on consumer protection and government fraud issues. He also described the funding issues the office faces.
Six discussed a case in Osborne, Kan., where a killer was found because of a DNA sample on a cigarette butt. The state since 2008 has required that a DNA sample be taken from everyone who is arrested for certain crimes — one of very few states to do so — and that database has helped find DNA evidence matches.
"The problem was the Legislature passed the collection side of it, but they didn't pass the funding side of it," he said. "So what we have right now is a very progressive, exciting law to collect DNA, and a state crime lab funding situation and system that doesn't pay to get those samples tested."
Six estimated there were 35,000 to 38,000 DNA samples sitting untested right now, and while he has addressed the Legislature about the issue, the funding is not available.
Six discussed the office's consumer protection division, sharing a story of how a Texas investment company had taken the retirement funds, about $90,000, of a woman with memory problems through aggressive telemarketing. The office got her money back and got the company to agree not to use those sales tactics in Kansas anymore.
About $6 million in restitution and savings were recovered in 2008 through the office's consumer division, and another $8 million in 2009, which Six said was significantly more than in the previous five years.
Six also discussed consumer education to prevent consumer fraud and government fraud and waste, saying the office recovered $17 million in 2009 from those abusing the state Medicaid system, $10 million more than has been recovered any year in the office's history.
The office also has taken steps to cut its budget, lowering it by 13 percent in 2009, Six said, and is trying to get fees and penalties on cases of consumer fraud to support the budget.
"We're working hard every day with a team and a group of lawyers and agents I'm incredibly proud of to make sure we're making the Attorney General's Office the people's law firm and to do the best we can for all of you," Six said.