LCDC

looks ahead to prospects of 2010 at meeting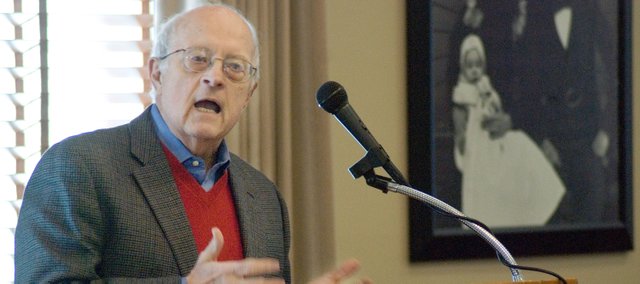 For most of the nation, 2009 was a rough year.
But as the members of the Leavenworth County Development Corporation looked back at the last year of the first decade of the new millennium during their annual meeting, they did have one thing to be thankful for — 400 new jobs coming to the county.
In August, Pioneer Group, Inc. successfully made a bid for a new Consolidated Patient Account Center to be established in the Dwight D. Eisenhower VA Medical Center. The new CPAC project would bring 400 jobs that paid an average of $65,000 a year and utilize a historic and vacant 60,000 square-foot building on the medical center campus.
This was great news for Ross Freeman, president of Pioneer Group, and Rick Kready, Pioneer Group's vice president of operations, who worked hard to bring that project to the county.
Freeman and Kready were the guest speakers during the lunch meeting where the LCDC board and its members gathered to reflect on the past year and plan for the future.
"If you're interested in applying for one of these $65,000 jobs you will be third in line behind Rick and I," Freeman joked.
During their speeches, the two speakers told LCDC about the process of getting the new CPAC facility to the county.
Kready said the site had some disadvantages in the bidding process, including added cost to renovate and maintain the 124-year-old building, but some of those same disadvantages were also advantages.
"Most of what we were competing with were empty big box buildings or something along that line," Kready said. "Our (project) would bring it right to a VA campus, utilize a historic building that is 124 years old that was built to serve veterans and it will once again serve veterans."
Chuck Peterson, LCDC president, thought the new CPAC facility was going to provide a unique and wonderful opportunity for the county.
"You have to have jobs before you get housing and you have to have housing before you get retail," Peterson said. "It's just wonderful for the county."
Also during the meeting nominations were taken for the three vacancies on the LCDC board of directors.
This year Joe McAfee, Greg Kaaz and Ed Chapman Jr. were stepping down. In their place, LCDC members voted to include Blain Weeks, CFO OF Geiger Ready-Mix, and Bob Hatch, CEO of Cereal Ingredients Inc. One position was going to be left open to be filled later in the year.
Chris Donnelly, LCDC board member, thanked the outgoing board members.
"Without volunteers like that the organization would not move forward," he said.
Peterson and Mike Nixon, LCDC vice president, will once again hold their positions on the board for another year.