Bobcats stuff Holton, advance to semifinals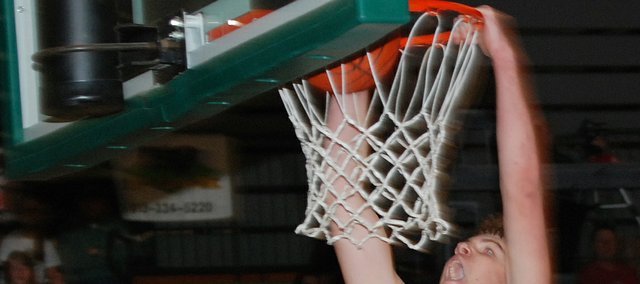 As the two-time defending champions of the Basehor-Linwood Boys Basketball Invitational, the Bobcats had no intention of being bumped to the consolation bracket — even if they were facing a rare opponent with the physical size to match up with them.
Holton boasted a formidable roster that included five players 6-foot-4 or taller compared to a Basehor lineup that has 6-6 sophomore Ryan Murphy and 6-5 sophomore Colin Murphy, as well as four players who are 6-3.
The Wildcats' bulk was no match for the balanced Basehor attack, however, and the Bobcats romped to a 65-48 victory Monday at BLHS.
"Everyone can contribute," senior point guard Mark Vaca said after the victory. "Everyone off the bench can contribute. We're all contributing."
That was no understatement. Vaca contributed 11 points, five assists and a handful of steals. Ryan Murphy contributed 20 points on 10-for-12 shooting. Colin Murphy, senior Jake Hattock and junior Ryan O'Donnell each chipped in 9 points, senior Austin Stubbs had 5 and junior Evan Theno added 2.
Senior Richie O'Donnell didn't score, but BLHS coach Mike McBride said O'Donnell played "probably the best second half I've seen somebody play without scoring" because of his defensive effort.
Holton employed a zone defense against BLHS, and it helped the Wildcats keep things interesting for the first few minutes. Both teams traded baskets and were tied at 6-6 after two minutes, but a 7-0 run that included a layup by Ryan Murphy and a layup and 3-pointer from Colin Murphy gave the Bobcats a 13-6 lead and forced Holton to call a timeout.
Things only got worse from there for the Wildcats. BLHS pushed its lead to double-digits late in the quarter. The Bobcats then hit eight of 10 shots in the second quarter and opened up a 35-20 lead by halftime.
"They were big, they caused us some problems inside, but we fought through it and executed well on offense," McBride said. "Any time you play a big team that has a zone like they do, you've got to come out focused."
The Bobcats (7-2) didn't lose any focus in the second half with their comfortable lead. Instead, they ramped up the intensity some more and continued to pull away.
Colin Murphy, Richie O'Donnell and Vaca each had assists to Ryan Murphy for baskets during the first two minutes of the third quarter. Vaca's came after sprawling on the floor for a steal and flinging the ball ahead to Murphy for a two-handed dunk and a 41-22 lead. The Bobcats never looked back.
BLHS advanced into the semifinals where it will play Platte County (Mo.) at 7:30 p.m. today. For updates on the tournament, go to basehorinfo.com.