Cerner, Unified Government seal agreement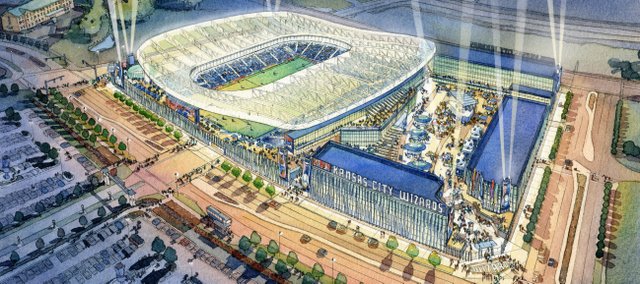 It's official. Wyandotte County will become the new home of a more than $400 million Wizards soccer stadium and Cerner Corporation office campus.
During a special meeting Tuesday, the Unified Government unanimously approved the final development agreement to construct the complex near the Legends at Village West shopping center and Kansas Speedway.
"This partnership between the Unified Government, the State of Kansas and development team will create thousands of high paying jobs, help the state meet its goal of becoming a national leader in the healthcare field, create educational and job opportunities for our students and bring the only major league sports franchise to Kansas," wrote Kansas City, Kan., Mayor Joe Reardon following the vote.
The development agreement calls for the construction of a $414 million campus that would include an 18,000-seat soccer stadium and an office campus that will house 4,000 new jobs.
In addition to the soccer stadium, the proposal includes 18 tournament quality soccer fields designed to attract national soccer tournaments to be in Wyandotte County Park. County officials said the $30-million tournament complex would be one of the largest in the Midwest and could potentially attract more than two million athletes, family members and spectators annually to Kansas City.
The tournament fields will be built before the end of 2012. The developers will also construct three recreational soccer fields throughout Wyandotte County for use by residents.
The office campus will provide for the future expansion of Cerner Corporation, which intends to start construction on its first building in 2011 and hit the target of 4,000 new jobs by 2016.
Above the permanent jobs created by the soccer facilities and Cerner offices, county officials report about 3,000 construction jobs would be created as the project takes shape.
"In current economic times we must focus on job creation. The number and kinds of jobs this development will create, from immediate construction jobs, to the health technology jobs at Cerner and those connected with the Wizards, will be a massive benefit for the entire state," Reardon said.
The project is being developed by OnGoal LLC, owner of the Kansas City Wizards, and Lane4 Property Group. The cost will be subsidized with $85 million in state tax credits and $147 million in STAR bonds and private investments.
Originally the Wizards corporation was working on a deal to build its new facility in the former Bannister Mall area in Kansas City, Mo. The project was stalled, and the group was able to come to a more agreeable contract across the state line in Kansas.
Gov. Mark Parkinson praised the project and what it would mean for the state.
"I applaud the work of Mayor Reardon, the Wyandotte County Commissioners, (Kansas Department of Commerce) Secretary (Bill) Thornton and the entire team at the Department of Commerce for bringing thousands of jobs to Kansas and helping our state get back on track. The proposal we offered was responsible and did not overreach; as a result, we were successful."