No obstacle too great for Basehor girls in victory against
STA
It was a bizarre stat line for the Basehor-Linwood girls on Wednesday against St. Teresa's (Mo.) Academy.
Photo Gallery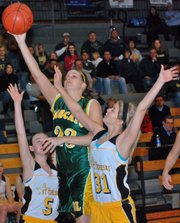 Basehor girls 51, St. Teresa's (Mo.) Academy 44
The Bobcats' numbers went something like this: only seven players suited up; one player fouled out; two players had four fouls; and one Bobcat was very, very ill.
The only numbers the Bobcats cared about, however, were 51 and 44. Those were the final scores of each team as BLHS claimed a hard-fought 51-44 victory in the consolation semifinals of the Basehor-Linwood Girls Basketball Invitational.
On an evening where adversity was at a premium, the Bobcats weathered it all and found a way to get the job done.
"I told the kids 'we got a W. It wasn't pretty, doesn't matter, it's a W against a good team,'" BLHS coach Noah Simpson said before pausing to high-five seven exhausted players as they exited the locker room.
"I told them 'we got the W. Great job. We'll talk about it tomorrow.' They need to rest."
Nothing came easy for Basehor throughout the game. The Stars — one of Missouri's traditional powers despite going through a rebuilding season — were a scrappy and relentless opponent.
Basehor-Linwood employed a 2-3 zone throughout the first half, and St. Teresa's responded by running a patient, perimeter-oriented offense that consisted of numerous 45-second possessions. That worked to the Bobcats' advantage early because the Stars misfired on most of their shots.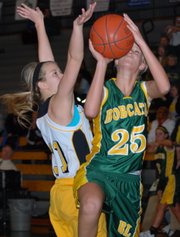 Megan Bergstrom — the Bobcat who was sick — got the BLHS offense going early as she scored the Bobcats' first two baskets from close range on assists from Cara McCarty and Taylor Johnson. St. Teresa's made two of its first three shots — jumpers by Peepers Gray and Megan Lankford — and had the game tied at 4-4.
A layup by Cassy Bever off of an inbounds assist by Courtney Poe gave BLHS a 6-4 lead with 2:55 left in the quarter. The next time down the floor, Jamie Johnson kicked the ball out to Poe for a top-of-the-key 3-pointer that gave the Bobcats a 9-4 lead — an advantage they carried into the second quarter.
After going 2-for-12 from the field in the first quarter, the Stars heated up in the second quarter. Megan Lewis knocked down a runner on the first possession of the quarter. Then Caroline Gray stole the ball at midcourt and drove in for a layup.
BLHS answered with a 17-footer by Bergstrom, and Poe followed with a pair of free throws that gave the Bobcats a 13-8 lead with 5:24 left in the quarter. St. Teresa's countered with a 9-0 run during the next three minutes as Becca Lueke swished a pair of 3-pointers and Lankford added another. After trading free throws, the Stars looked poised to take an 18-15 lead into halftime, but Jamie Johnson forced a turnover and fired the ball ahead to Taylor Johnson who sank a 30-footer at the buzzer and tied the game at 18-18 at intermission.
A third quarter marked by big shots by BLHS and temper tantrums by the St. Teresa's coach and fans saw the tide turn in the Bobcats' favor.
Bergstrom blocked a pair of shots to start the quarter. Then the Bobcats buried a trio of 3-pointers — one by Taylor Johnson and two by Bever — and surged to a 27-18 lead. From there, both teams were sloppy with the ball and the Stars fans grew angry as they demanded foul calls. Then, during a wild scramble that began with Basehor throwing the ball into the backcourt and ended with two players colliding while going for the ball with no foul called, STA coach Doug Nelson ripped off his jacket and slammed it to the floor in anger. He promptly received a technical foul. After kicking the jacket toward an official, he was called for another technical and ejected from the game — a move that drew taunts from some of the adults in the Stars' cheering section. Bergstrom made one of four free throws and gave BLHS a 30-22 lead. The teams swapped free throws the rest of the quarter and the Bobcats took a 36-26 advantage into the fourth quarter.
Tensions calmed a bit during a foul-happy fourth quarter. Basehor built a 14-point lead at 42-28 before weathering a late charge by St. Teresa's. STA used a 9-0 run to draw within 42-37 with 3:15 to go. A Bergstrom layup and two free throws by Poe helped keep the Stars at arm's length, though, and the Bobcats still led 47-42 with 40 seconds left.
Maggie Jo Rellihan made a coast-to-coast layup that pulled the Stars within 47-44 with 33 seconds left. A quick foul put Poe back at the line. This time she missed a pair of free throws, but Bergstrom grabbed an offensive rebound and scored on a put-back that made it a two-possession game.
"That really sealed the deal for us," Simpson said. "I saw Megan at 7:35 this morning walking through the hallway and I could just tell she was sick, and what a huge response by her to fight through it and get a rebound and get a layup when we desperately needed it."
Bergstrom and Poe each added free throws in the closing seconds to protect the lead and seal the victory.
Lueke led St. Teresa's with 12 points and Gray added 10.
Bergstrom scored a game-high 14 points, Bever had 13, Poe scored 10, Taylor Johnson had 8, Jamie Johnson scored 5 and Cara McCarty added 1.
More than individual stats, Simpson said he was simply proud of his team for finding a way to win on a day packed with obstacles.
"I was pleased with the fact that we fought through it," Simpson said. "Megan was sick all day, wanted to go home this morning, and we didn't let her. We pretty much told her she had to stay. I thought she battled through it; the sickness was a factor and she was definitely worn down. Toward the end there Taylor tells us she thought the was going to throw up. I wish she'd told us that a little earlier. I just think right now we have some kids who are a little sick, but to fight through it — to have a freshman on the court (Jamie Johnson) fighting through it and hitting some free throws early — we did just enough to win the game. Overall, I'm pleased with our effort, I thought we responded well and did some good things, so I'm very pleased with where we're at."
Basehor (5-5) will face Park Hill at 6 p.m. Friday in the fifth-place game.
GAME ONE: Park Hill (Mo.) girls 58, Wyandotte 27
Wyandotte junior Royce Shields poured in 25 points, but her team scored just 27 total and lost to Park Hill, 58-27, in the consolation semifinals of the Basehor-Linwood Girls Basketball Invitational.
GAME TWO: Park Hill (Mo.) boys 50, St. Joe (Mo.) Benton 29
After losing a tough first-round game to St. James Academy on Tuesday at the Basehor-Linwood Boys Basketball Invitational, Park Hill appeared ready to make sure its semifinal game would be much more pleasant.
The Trojans opened the game on a 10-0 run and held Benton scoreless for the first six minutes.
Instead of capitalizing on the early advantage, however, they fell into their same sloppy ways that kept them from challenging St. James. Meanwhile, a scrappy Benton squad hustled its way back into the game. The Cardinals closed the first quarter on a 6-0 run and kept the second quarter close throughout by forcing turnovers, earning second-chance opportunities and taking advantage of missed layups by Park Hill.
The second quarter was spent mostly at a five-point margin, but Park Hill carried a 21-14 lead into halftime.
Park Hill regrouped at halftime and quickly regained control of the game in the second half. It built a 41-24 lead by the end of the third quarter and continued to pull away in the fourth quarter.
GAME FOUR: Holton boys vs. Pembroke Hill (Mo.)