Race car drivers enjoy time in spotlight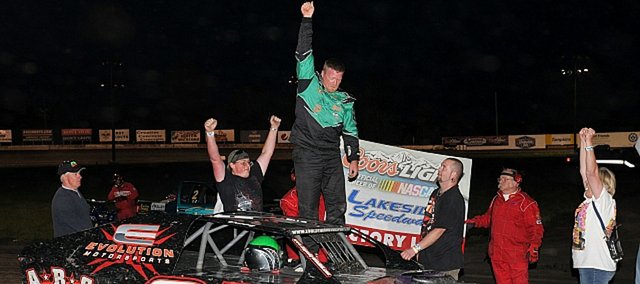 Television will never be the same for a group of Bonner Springs and Basehor race car drivers.
Basehor residents Tim Karrick, Danny Charles and Rodney White and Bonner Springs resident Tom Charles had a television crew from the Discovery Channel follow them for the making of a miniseries. They learned the ins and outs of making a show and now, the fruits of their labor are preparing to premiere in March.
"It was fun and now I can say I did it," Danny Charles said about the experience.
The race car drivers' adventure started three years ago when two filmmakers from New York started a documentary on a NASCAR driver from Eudora.
White, a friend of the featured driver, was involved in the project. When the film fell through and the two filmmakers decided they wanted to go in a different direction, White didn't hesitate to suggest a group of guys well-known at the Lakeside Speedway dirt track in Kansas City, Kan.
After a year and a half of talking back and forth between the local drivers and the New York filmmakers, White said a pilot was shot and then shopped around until the Discovery Channel picked it up.
"We got lucky," White said of finding a buyer for the footage.
That's when the real work began. In June 2008, a camera crew and producers descended on the northeast Kansas area and began filming for six weeks.
They came at the height of the Lakeside Speedway racing season as Danny Charles was making his run for the championship.
Two nights a week the film crew would fill Charles' workshop in Kansas City, Kan. Footage was shot of Charles and his pit crew modifying and fixing cars, as well as several personal interviews.
Friday nights were race nights and Charles and other featured driver Tom Karrick played up their longtime rivalry as the cameras captured every victory and crash.
White said getting used to the film crew following their every move got comfortable after only a week, and after that, he said it didn't even feel like they were there.
So much so, in fact, White said that viewers will see the real personalities of the drivers, which is a rough group of men that don't apologize for the words that fly out of their mouths.
"It's not just about the cars," White said. "It's about what are these guys all about."
But what Charles said he hopes mostly comes out of the experience is for viewers to get a better understanding of dirt racing, which he described as "grassroots racing."
Charles has been racing at Lakeside since 2001 and he said his father, Tom Charles, has been racing since before he was born. Charles currently races for the JayBro Motorsports team, which is owned by Randy Moore.
"We're the true racers," Charles said of dirt track racing. "We get out there and we get it done."
"Heartland Thunder" the series of six one-hour episodes featuring the local drivers will premiere at 8 p.m. March 10 on the Discovery Channel. The remaining five episodes will air at the same time each successive Wednesday.