Senate candidate stressing less government spending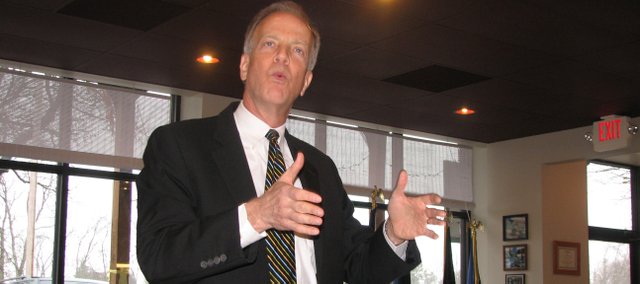 Reducing government spending and preserving Kansas values were two of the forerunners on U.S. Rep. Jerry Moran's priority list Tuesday morning as he made a stop in Basehor on his U.S. Senate campaign.
Moran, R-Kan., is battling U.S. Rep. Todd Tiahrt for the Republican nomination for the seat now held by Republican Sam Brownback, who is leaving the Senate to run for Kansas governor. Charles Schollenberger, a former journalist from Prairie Village, is the lone Democrat now running for the Senate seat.
Moran told audience members Tuesday at the Basehor Veterans of Foreign Wars Hall he had voted against every bailout and stimulus package presented since the downturn of the nation's economy, and he blamed excessive government spending for America's current problems.
"Anything Washington, D.C., has called 'reform' has turned out to be a bad thing," said Moran. "Our current economic state is because we've lived beyond our means. We're bankrupting our country, and if you want to be honest, we're bankrupt now."
Government programs like Cash for Clunkers and providing funding for the automobile industry are perpetuating America's problems, Moran said, not solving them.
"The solution to our problems is not more bureaucracy in Washington," Moran said. "It isn't more spending. Washington is a booming place. You'd think it would be suffering like the rest of us, but it's not. The streets are busy because of lobbyists and organizations who want to make sure they're going to be included in the stimulus package."
Being tighter with and balancing the federal budget annually were two ways the government could turn the tide, Moran said.
He said all Americans would be in better places if members of Congress were more concerned about the welfare of their constituents and less concerned with the next election.
"It's business as usual in Washington," Moran said. "It's much more important for us to get re-elected than to do what's right. We're missing the story here about focusing more on what's best for Americans."
Moran said he had strived to maintain his ties to Kansas, rather than getting wrapped up in the hustle and bustle of the nation's capital.
He and his family have lived in Hays during all of Moran's time in Congress, he said, which was something about which he felt quite strongly.
"It's important to live with the people you represent," he said. "I take a lot of Kansas perspective with me to Washington. Here it's about small business, it's about farmers and ranchers. In many of the towns I represent, economic development is do we have a grocery store in town? A lot of people in Washington just can't comprehend that."
"It's the basics here, and most of us just want the government to leave us alone," he added to thunderous applause.
Moran opened the floor for comments from the public, and those in attendance asked about several topics, including immigration, healthcare and No Child Left Behind.
Moran said he was against the healthcare bills presented by both political parties.
"Healthcare is just one more symptom of what's wrong in Washington," he said. "It's all about passing the bill. We've got this mindset our healthcare system is disastrous. People come from all over the world to access our healthcare."
In response to other questions, Moran said he was against granting amnesty to illegal immigrants in the United States and supported stricter border control.
He also said he passionately opposed No Child Left Behind, describing the legislation as a nonsensical approach to education.
"(No Child Left Behind) is based on a false theory 90 percent of us are the same," Moran said.
In closing, Moran encouraged the audience to stay informed and continue attending public meetings and voicing their opinions.
"The national media has made it seem like these people who are attending town hall meetings and tea parties are crazy and don't know what they're talking about," Moran said. "These are normal, everyday Americans concerned about their country. These are good things."