Shorthanded
BLHS

girls take No. 4 Ottawa to wire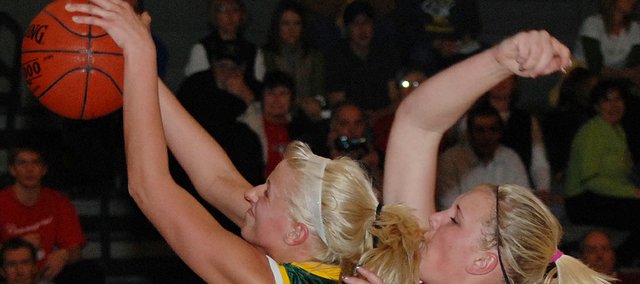 Noah Simpson views the regular season as one giant learning experience that prepares a team to be great in the postseason.
Photo Gallery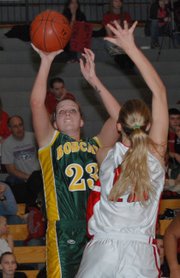 Ottawa girls 51, Basehor girls 45
On Monday, Simpson — Basehor-Linwood's girls basketball coach — had one giant opportunity to watch his players battle adversity, struggle, learn and ultimately improve in a way that he believes could pay major dividends by the time the Class 4A substate tournament arrives.
The learning experience came in a 51-45 loss to Ottawa in the opening round of the Basehor-Linwood Girls Basketball Invitational.
The Bobcats were forced to play without leading scorer and top inside force Megan Bergstrom for about half the game as she sat on the bench in foul trouble. With their first option on offense out of commission, players took on unfamiliar roles offensively and defensively. They nearly wiped out an 11-point deficit and found out they could hold their own against the 8-0 Cyclones (ranked No. 4 in the state in Class 4A).
"We just talked about it in (the locker room), that just maybe this was a benefit for us in the future," Simpson said. "I think we had some kids step up and do well and do some good things. I think at first it kind of shocked them that (Bergstrom) wasn't out there, but I think we adjusted and did some good things and fought right back into it.
"You can't give this team enough credit for working hard and not giving up. We were down by 11 and they could have easily chucked it in, but they didn't. We kept playing hard, and I think that's going to get us a long way this year. You go up against a team that's 8-0 and ranked in the top five in the state and lose by five or six, and I think it shows we've definitely progressed from where we were at the beginning. We talked about playing a tough schedule and why we do what we do schedule-wise. It helps us get tougher, and hopefully we'll get a chance to see them later. If we do, it'll be a state so that'll be great."
Bergstrom, a junior, was a major factor early for the Bobcats. She scored two lay-ins and a turnaround jumper and kept BLHS within 11-8 by the end of the first quarter.
A 3-point play by Bergstrom with 5:23 left in the second quarter tied the game at 13-13, but she picked up three fouls by the end of the half and found herself on the bench. Two of those fouls came in the final 40 seconds against Ottawa senior Kearsten Peoples. The 6-foot forward converted a 3-point play on one of the fouls and knocked down a pair of free throws after another and gave the Cyclones a 20-14 lead at halftime.
Basehor turned the ball over on its first possession of the third quarter, and Bergstrom was whistled for a foul at the other end. Just 14 seconds into the second half she went to the bench with four fouls. She wouldn't return until the fourth quarter.
In Bergstrom's absence, the Bobcats struggled for a bit and then showed maturity.
They got a shot blocked, missed an open 3-pointer and turned the ball over while falling behind 26-16. Then freshman Jamie Johnson stepped up and knocked down a 3-pointer to temporarily stop the bleeding.
Ottawa used a lay-in by Peoples and a jumper by Kristyn Watts to stretch the lead to 11 at 30-19, but Basehor dug in and responded one more time. Junior Courtney Poe found senior Cassy Bever in transition for a layup. The next time down the floor, Poe slashed to the basket, scored and was fouled. Her free throw brought the Bobcats within 30-24 with 3:35 left in the quarter.
Ottawa pushed its lead back up to nine, but senior Taylor Johnson drilled a 3-pointer to keep the Bobcats within striking distance.
The Cyclones led 38-30 entering the fourth quarter, but the lead wasn't safe as the Bobcats were about to get Bergstrom back.
Bergstrom wasted no time getting involved in the fourth quarter. She knocked down an elbow jumper on the opening possession of the quarter. Moments later, she grabbed a defensive rebound and fired an outlet pass to Poe who found Bever for a layup. With 7:11 left in the game, Basehor was within 38-34 and Ottawa called a timeout.
The Cyclones regrouped during the break and gradually rebuilt a 43-34 lead while forcing three straight turnovers. Bergstrom picked up her fifth foul with 3:59 left and the Bobcats were forced to battle short-handed again.
Ottawa pulled away for a 47-36 lead with 2:17 to go, but the Bobcats — led by Bever — dug in one last time. Bever knocked down a pair of free throws, buried a 3-pointer and added another free throw to pull BLHS within 48-42 with 13 seconds left. Peoples knocked down a free throw to extend the lead, but BLHS wasn't done fighting. Poe pushed the ball up the court and found junior Shelby Equels in the corner. Equels banked in a 3-pointer that drew the Bobcats within 49-45 with 2 seconds remaining. A last-ditch foul sent Watts to the free throw line where she knocked down a pair of shots.
Simpson said he loved the fight his team showed despite the adversity.
"I think based on the way this game unfolded, I think it can be a benefit for us down the road. Hopefully our kids got a little bit of confidence there and realize that we can play small and quick and still be in a game with a top team in the state," he said.
Peoples led Ottawa with a game-high 19 points and senior Shelby Miller added 10.
Bever paced BLHS with 17 points — 14 of them in the second half. Bergstrom scored 11, Jamie Johnson had 6, Equels had 3, Taylor Johnson had 3, Poe had 3 points and seven assists and sophomore Cara McCarty added 2 points.
Basehor (4-5) was slated to play St. Teresa's (Mo.) Academy at 6 p.m. Wednesday in the consolation semifinals. Results were unavailable at press time but can be found online at basehorinfo.com.