VFW

recognizes Basehor teachers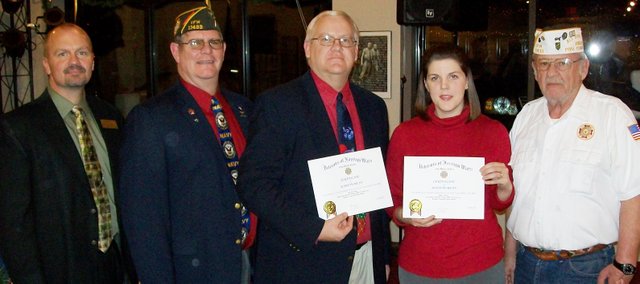 A fourth-grade teacher at Basehor Elementary School is in the running for a statewide citizenship education award that could lead to national recognition.
Hillary Raple advanced to the state competition after winning the National Citizenship Education Teacher's Award from Basehor Post 1149 of the Veterans of Foreign Wars.
The entries for this award are judged at the local, district, state and national levels, and each winner receive certificates and monetary awards.
Raple and Basehor-Linwood High School teacher David Svoboda were this year's recipients of the VFW awards, and Raple won overall in VFW District No. 1, which sealed her advancement to the state competition.
Basehor VFW Quartermaster Daniel Stueckemann said Svoboda and Raple were nominated by other teachers in the district who submitted short essays explaining why they were deserving of the award.
"After reading their nominations, the members of the VFW agreed they were fine representatives of the values we all support," Stueckemann said.
The news was both surprising and thrilling to Raple.
"I feel so lucky to have won this award," Raple said. "I am in great company with teachers who have won in the past. It is an honor to be recognized by this particular group of veterans."
The teaching professional isn't just about reading, writing and arithmetic for Raple. One of the lessons she said she strived to pass to the children in her classrooms each year is what it means to be a committed, caring member of their local communities.
"Of course, teaching my students about how to become good citizens goes far beyond social studies class," Raple said. "Each day they are in our school, they learn about citizenship, how to be a good citizen, and what it means to the larger community around us. We are not just teaching kids how to multiply and read, we are in partnership with their families to teach them how to be model citizens. It is all part of something very big."
Svoboda said he, too, was surprised to hear he was to receive the citizenship award.
"It was a nice surprise, since I had no idea that I had even been nominated," he said. "Being nominated by a peer is award enough, but receiving recognition from the VFW here in Basehor was the icing on the cake. Being in the classroom with kids on a daily basis is truly a gift."
Just before winter break in December, Raple and Svoboda were honored for their teaching accomplishments at a dinner provided by the VFW. Fellow teachers, VFW members, family and friends were present to congratulate the two as they accepted their award certificates.
Raple said she wanted to again express her appreciation to the Basehor VFW, with special thanks going out to Quartermaster Daniel Stueckemann.
"I am thankful to the local VFW for my award," Raple said, "and I am even more thankful for the sacrifices they have made as part of our armed forces."