Rally falls short as
BLHS

girls take 6th at tourney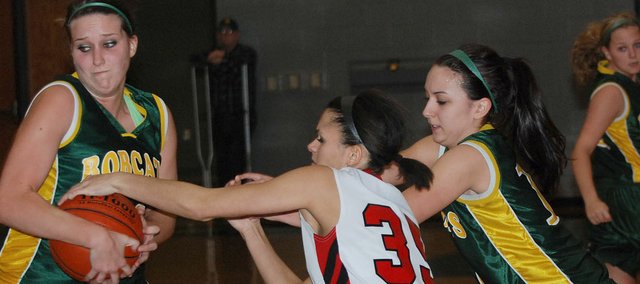 Basehor-Linwood put forth a valiant effort in the second half of Friday's fifth-place game against Park Hill (Mo.), but it wasn't enough to win the game.
Photo Gallery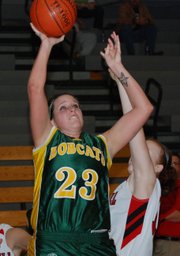 Park Hill (Mo.) 54, Basehor girls 39
The Pirates had too many weapons on offense and slowed down the Bobcats' offense at pivotal times.
Park Hill played zone and man-to-man defenses, stifling the Bobcats and forcing turnovers. In the fourth quarter, Park Hill closed out the game on a 14-2 run for a 54-39 victory.
The run came at a time in the second half when Basehor-Linwood had cut Park Hill's lead to three points.
The run occurred as Megan Bergstrom fouled out of the game and other players got into foul trouble. Basehor-Linwood slowly began to run out of answers against Park Hill, missing shots and turning the ball over. The Bobcats had fought throughout the second half to overcome a 12-point halftime deficit, but were unsuccessful.
Park Hill's Laura Bennett and Katy Plummer combined for 23 points to lead Park Hill in the victory.
Courtney Poe led the Bobcats with 15 points and Cassy Bever joined her in double figures with 11. The team's other scorers were Taylor Johnson, 2; Bergstrom, 7; Cara McCarty, 4.
On offense, the Bobcats scored just six points in the first quarter. Park Hill led 10-6 at the end of the first quarter. Park Hill outscored Basehor-Linwood 17-11 in the second quarter, taking a 27-15 lead into halftime.
Bennett scored 10 points in the quarter for the Pirates.
Basehor-Linwood's offense was rejuvenated in the third quarter.
Bever started it with back-to-back field goals, leading BLHS on a 7-0 run. She finished with six points in the quarter.
Poe chipped in three treys in the quarter.
Park Hill led 33-28 entering the fourth quarter. Basehor-Linwood cut the lead to three points before Park Hill pulled away on the late run.
The Bobcats will now have more than a week off before playing again on Feb. 2.
For a full recap, pick up next week's edition of The Sentinel.