Bobcats hold off Thunder, earn 3rd straight tourney title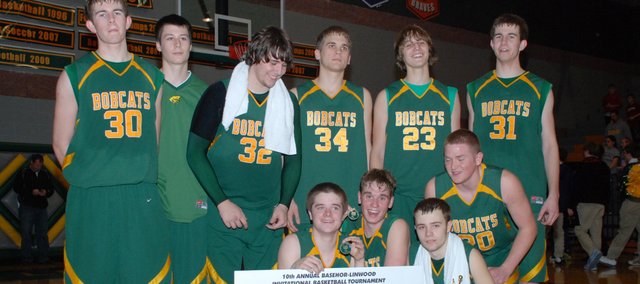 Basehor-Linwood students chanted repeat at 10:04 p.m. as BLHS basketball players smiled and posed for pictures, celebrating their latest Basehor-Linwood Boys Basketball Invitational title.
Photo Gallery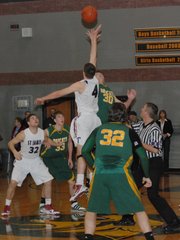 Basehor boys 54, St. James 50
They had earned a chance to enjoy the moment, rallying from a fourth quarter deficit to edge St. James Academy, 54-50.
It could also be argued that this was the best game of the Bobcats' three straight championships. If nothing else, it is the best game that Basehor-Linwood has played this season, coach Mike McBride said.
Basehor-Linwood made critical shots down the stretch, and St. James failed to capitalize on enough opportunities to win the game.
After the game, St. James coach Mark Huppe said his team improved by playing against Basehor-Linwood.
Likewise, McBride said this was the first real close game the team has played this season. Even in defeat, the games haven't been close. He liked the statement the victory showed that his team could go out and win a game.
He liked the way his players looked to be having fun playing the game, and he said his team has progressed in the last couple weeks since losing to Sumner Academy.
Players said it felt like substate had arrived in January.
"It felt like a substate atmosphere out there tonight," BLHS sophomore and Tournament M.V.P. Colin Murphy said.
Trailing 50-46, Murphy drilled a 3-pointer with three minutes left.
"The kid (guarding me) was talking a lot of trash and I wanted to put it in his face," Murphy said.
The basket cut the Thunder's deficit to one point.
Moments later and with no change in score, Murphy was fouled. He went to the line and made both shots, giving his team a 51-50 lead.
Neither team scored for a couple possessions. Then senior Mark Vaca was fouled with 58.5 seconds left and timeout was called.
As the teams huddled, the crowd in the arena was raucous with fans on both teams going crazy, cheerleaders jumping around and coaches calling out last-minute instructions to their players.
Vaca stayed cool during the timeout.
After it, he stepped to the foul line and drilled the first shot. Vaca received the ball back from the referee, took three dribbles and swished the ball through the bottom of the net.
"I am a senior and it is my job to help the team," he said. "My job is to be composed and hit the big shots when I am needed. They are a good team and we had to fight to get the win."
Basehor-Linwood led 53-50 and went to work on defense.
St. James decided not to play for a 3-pointer on its next possession, opting to work the ball inside to sophomore Clint McCullough who drew a foul. McCullough missed both foul shots and BLHS sophomore Ryan Murphy grabbed the rebound. He was fouled and made the second of two foul shots, making it a two-possession game with less than 30 seconds left.
St. James attempted two shots at the other end, but missed them both. Junior Evan Theno grabbed the rebound on the second shot and was fouled.
At the line, he missed both foul shots.
At the other end, McCullough misses a 3-point attempt. Then senior Mike Huppe misses a 3-pointer and Basehor-Linwood recovered the ball. Ryan Murphy was fouled by St. James senior Jim Getto, which was ruled an intentional foul. While he missed the shots, Basehor-Linwood kept possession of the ball. Colin Murphy held the inbounds pass as time expired.
Defense made a difference for the Bobcats down the stretch.
"Our defensive intensity was better than any game that we had played all year," Colin Murphy said. "No doubt about it."
Colin Murphy finished with 21 points. Clint McCullough led the Thunder with 25 points.
Other scorers for Basehor-Linwood were Vaca, 10; Ryan Murphy, 9; Richie O'Donnell, 5; Jake Hattock, 5.
Other scorers for St. James Academy were Huppe, 10; River Scott, 7; Jonathan Anaekwe, 4.