Chamber has new president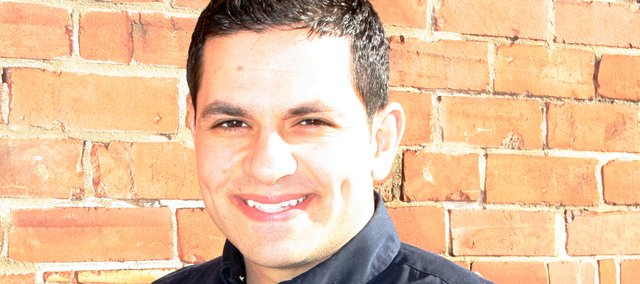 As the Basehor Chamber of Commerce welcomed four new board members at the beginning of the year, it also introduced a new president who has big plans for its future.
Former chamber vice president Aladdin Ashkar was appointed president of the chamber at the chamber's Jan. 6 board meeting, its first meeting of 2010.
One of the reasons Ashkar sought the position, he said, was to incite some change within the chamber.
"I felt this year in particular, we on the Chamber Board will have an opportunity to make some much needed changes within the chamber," Ashkar said. "We have some great people on the board, and I feel like with my background, having lived and worked in Leavenworth/Lansing, gives me a real county-wide prospective on things. I feel the chamber can help Basehor businesses market themselves better not only within the city but on the county and metro level as well."
One of the key elements to promoting Basehor in 2010, Ashkar said, will be creating a solid relationship with the city and working toward common goals.
"I would really like to get Basehor's city officials and the chamber on the same page," Ashkar said. "I think it's important for them to understand what our goals are and for us to combine our resources to make Basehor a desirable place to open a business or buy a home. This year is especially exciting because the city has announced their revitalization program that offers a very attractive tax rebate program on commercial and residential properties. As a chamber, we'll make that a priority to market that material."
For the last seven years, Ashkar has worked as a loan officer for area community banks, specializing in commercial and real estate loans. He currently serves as vice president and commercial lending officer for Community National Bank in Basehor. This is Ashkar's third year on the Basehor chamber board of directors. Ashkar is also one of the original founders of the Young Professionals of Leavenworth County and is a member of Leavenworth County Development Corporation.
Maintaining a consistent balance with all these activities and his family is something Ashkar says has been made possible by all the helpful people surrounding him.
"The best part about working at Community National Bank is that we are encouraged to get involved with as many community organizations as possible," he said. "This is easier said than done sometimes, but I know I have great people around me. We have great board members, both on the chamber and with the Young Professionals of Leavenworth County. Without them, it would be impossible to complete all the tasks that come with roles. I also a have an amazing wife, who stays home with our two little boys and is very understanding and patient with my responsibilities outside of our home."
As president, Ashkar said he believed it was paramount he promote the chamber's primary purpose: helping existing businesses become and stay successful and attracting new development to the city. To do this, Ashkar stressed he would be seeking the cooperation of the city and county organizations.

"I believe its important to work hand in hand with the Leavenworth County Development Corporation, our city officials as well as other area chambers to try to be more on the same page," Ashkar said. "There is no reason why we all can't put our heads together and combine resources instead of trying to reinvent the wheel. I also I think the key to our success is finding out what the Basehor Chamber members' needs are. One of my major goals this year is to create ways to get in front of our businesses more often and find out what we as a chamber could be doing to attract more business to them."
As he begins the process of making these changes, Askar says he's feels eager and thankful for the opportunity to lead the chamber.
"It means a lot to me, I feel like I have earned the trust of my fellow board members," he said. "I'm motivated, excited and ready to gain a better understanding of how we as a chamber can help our local businesses."