Mayor forecasts growth in 2010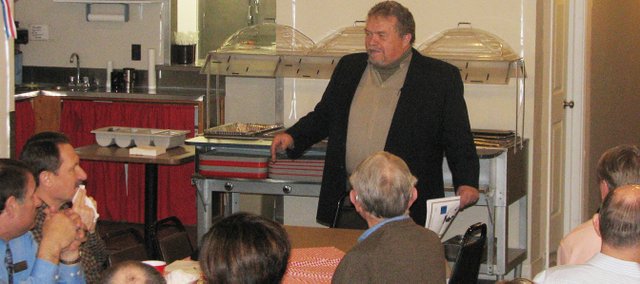 Forming a strong relationship between the city of Basehor and the Basehor Chamber of Commerce will be key in Mayor Terry Hill's plans for 2010.
At Thursday's chamber meeting, Hill gave the annual State of the City address, during which he touched on several of Basehor's 2009 accomplishments and gave the audience a general idea of the direction he would like to take the city.
Among his list of the previous year's successes was creating Basehor Boulevard, redeveloping the area from Craig Street to Parallel Road, improvements to the Basehor Police Department and the expansion of the city's wastewater treatment plant.
"I talked to Gene (Myracle, city superintendent), and he reported the city can now handle 20,000 residents," Hill said of the wastewater treatment plant project. "I believe the city will grow, and it's wonderful to know we can accommodate that now."
Also last year, the city had several changes in its staff and elected officials. These changes, Hill said, were already bringing positive effects to Basehor.
"We have some really good cooperation on the council now to get things done in Basehor," Hill said. "We also have a new city administrator and new city engineer. We recently hired Mark Loughry and Mitch Pleak and are excited to have them with us."
As he looked into the year just beginning, Hill said he envisioned growth and development in the city, both commercial and residential. Such could occur, he said, if the city and chamber collaborated to market the Wolf Creek Parkway area and Basehor's newly implemented tax rebate program as effectively as possible.
"It's very important to me to have the cooperation of the chamber and the community to get some of these things done," Hill said. "Let's hope 2010 is a great year for the chamber and the city."
Additionally, Hill said he wanted this year to bring improvements to the Basehor City Park, establishment of a no-kill animal shelter for stray pets in Basehor, implementation of uniform speed limits and emergency snow routes, as well as an increase in community volunteerism.
Chamber President Aladdin Ashkar said he was on board with Hill's plan for a strong relationship with the city.
"I think we can really put our minds together and make Basehor an attractive place for businesses to come and for people to move," he said.