Basehor prepares for patriotic tradition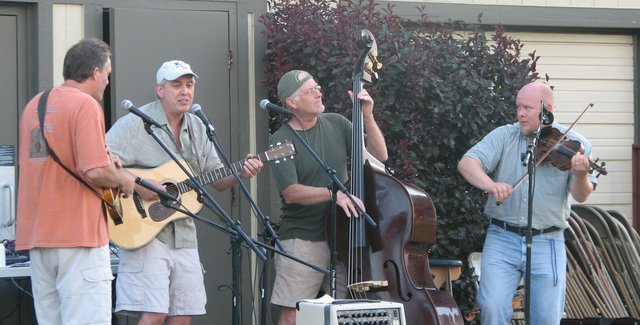 The annual Basehor July 4 celebration is just three days away, and this year's festivities are set to live up to the city's patriotic traditions.
The holiday activities are organized by the Basehor Gold PRIDE group and sponsored by the Basehor Chamber of Commerce, the Basehor Lions Club, the City of Basehor and Gold PRIDE.
Concessions will be served at 5:30 p.m. at the VFW, 2806 N. 155th St., to kick off the evening. At 6 p.m., the parade will start at the corner of 155th Street and Leavenworth Road, during which the Basehor-Linwood High School softball team will be featured as the 4A state champions.
Event organizer Chuck Wilderson, of Gold PRIDE, said the event — especially the parade — would be quite entertaining this year.
"We've really got a nice evening planned," Wilderson said. "I think people will enjoy seeing the girls softball team in the parade."
Basehor residents Danny and Debbie Dearinger were selected to be this year's grand marshals, an honor Wilderson said they were excited to fulfill.
"They do a lot of great work in the community," Wilderson said. "They're looking forward to it, and they're certainly deserving of it."
Other activities such as games and live entertainment will take place near the Basehor-Linwood High School football field on 155th Street and Parallel Road.
At 8:30 p.m., one community member will be surprised by the Chamber of Commerce as the Citizen of the Year Award is presented.
As with previous years, the National Anthem will be sung later in the evening with the Basehor Veterans of Foreign Wars leading the color guard, and the free fireworks show begins at 9:15 p.m.
"Of course, people always like the fireworks," Wilderson said. "It will be a good celebration, so we're hoping to have a nice turnout."
The schedule of events this year is as follows:
• 5:30 p.m. Food and concessions
• 5:30 p.m. to 8:30 p.m. moonwalk
• 6 p.m. Parade
• 6:30 p.m. to 8:30 p.m. Games and activities
• 7 p.m. to 8:30 p.m. Live entertainment
• 8:30 p.m. Citizen of the Year Award presentation
• 9 p.m. Color guard, gun salute and National Anthem
• 9:15 p.m. Fireworks display
For more information, go to the Basehor city website at cityofbasehor.org, or call the Gold PRIDE group at (913) 724-6678.