Braille becomes passion for ambitious 9-year-old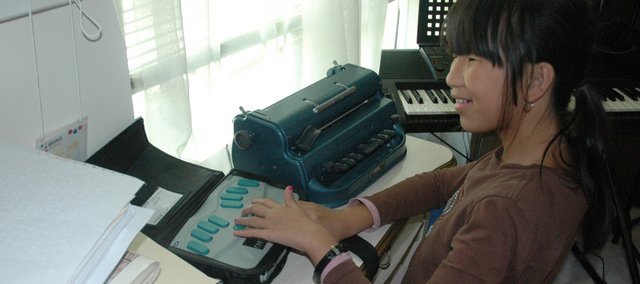 Ashlee Thao sits at her desk in her bedroom — a common place to find the Bonner Springs 9-year-old whose seemingly insatiable thirst for knowledge keeps her up at all hours of the night.
To her left, a large stack of papers teeters as the most recent sign of her passion for learning.
To her right, sits a Perkins Brailler. Thao strikes the keys with sharp, swift moves as she first writes her name using each letter and then again, this time using contractions — a sort of shorthand language used in Braille.
"It takes a lot of skill to write," Thao said. "When you get the hang of it, you're going to start reading and writing faster as you go."
Thao was born with congenital cataracts and lost her vision during a surgery to remove them. She began learning the Braille system, a form of upraised writing and reading by touch, at the age of 3.
Now moving in to the fifth grade, Thao has taken her Braille knowledge to the national level. After winning second place at the Nebraska Regional Braille Challenge, Thao recently took her qualifying spot to Los Angeles to compete with 800 of the top blind and visually impaired students from across the United States and Canada. This was her second year to try out at regionals and the first year she qualified for nationals.
With students ranging in age from 6 to 19, Thao blossomed at the contest. While she didn't take home one of the top three spots in her division, she did bring home an even greater desire to continue her education.
"It was a great success," Thao said.
While in California, Thao had the opportunity to visit the Braille Institute of America where she and fellow competitors got to test the newest in technology of braillers.
To Thao's delight, new braillers not only don't require the larger paper her family has to special order currently, but she said the machines were lighter weight and the keys were placed closer together.
At competition time, Thao competed in three categories in her division — spelling, proofreading and comprehension.
"It was pretty much what I expected it to be," Thao said of the contest. "Except the comprehension part. That was harder. But that was fine with me because when you get to the nationals, it's going to get harder."
Thao's mother, Julie Xiong, said she was more than pleased with the outcome of the competition, which she said encourages literacy among the blind, an important issue because so many people stop practicing the language as they get older.
"I think that it was really important for us to be there," Xiong said. "We gained insight into things that can help (Thao) in the future."
Xiong said there was a panel of blind, college graduates who spoke about their experiences growing up and what it took for them to achieve their goals.
"You never expect to have a disabled child," Xiong said. "You don't know if what you're doing is right. But being around other parents, you start to see you are doing alright, but we did get ideas of ways to improve."
Xiong said a lot of the programs focus on ways to help Thao become self-sufficient so one day she can go off on her own and put her aspirations into practice.
"It was good for her to be around other kids who are talented like her," Xiong said.
Those aspirations of the future already exist in Thao as she's decided she wants to be an author and a musician when she grows up.
Thao is currently working on four novels, some of which she describes as "realistic fiction" with the others being completely fantasy. Part of Thao's inspiration to become a writer came from the several magazines she orders, made for the blind.
"I read Muse (Magazine) because it's amusing," Thao said with a laugh. "And I read National Geographic because I love science."
Thao also already plays four instruments: the piano, violin, cello and recorder.
Thao will be spending her summer continuing to learn in summer school at the Kansas State School for the Blind. She also plans to attend Juliet Low, an outdoor camp for girls with disabilities.
As she prepares for her fifth-grade year, Thao isn't sure where she will be attending school. Fourth grade was her first year attending public school, as she had been going to the Kansas State School for the Blind since a young age. Thao attended Linwood Elementary School, but because her visual impairment instructor moved, Thao and her family will be evaluating where she will continue her education.
In the meantime, Thao is already thinking about next year's national Braille competition. With ideas for ways to study harder, Thao said she's working her hardest to place in the top three.
"I love challenges," she said. "I'm definitely ready for a challenge."