District sees success with online enrollment program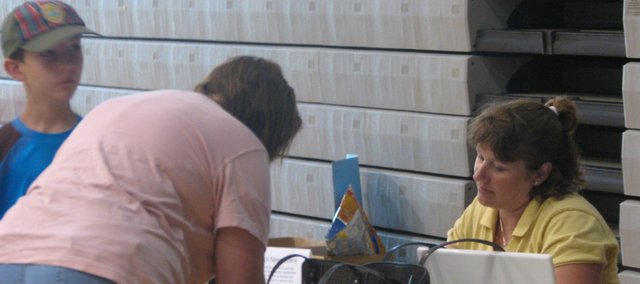 Though summer is in full swing, enrollment is right around the corner, and Basehor-Linwood students and parents have a new way to move through the process.
Enrollment for the 2010-2011 school year is running differently with the debut of the school district's online enrollment option.
Assistant Superintendent Mike Boyd spearheaded the operations to create an online enrollment system in the district's existing student information database, through which parents can download and fill out nearly all enrollment forms needed. Parents can then breeze through enrollment day only having to pay fees in person.

The student information database on the district's website, called Skyward, allows parents to view their children's grades and class schedules. The additional enrollment feature, which opened late in the 2009-2010 school year, has been met with both positive and negative feedback, says district communications coordinator Kaci Brutto. Approximately 50 percent of the district's parents took advantage of this online implementation, Brutto said.
"We've had some people tell us it's great, and they're glad to have this new option," Brutto said. "But some people didn't understand how it worked or didn't know how to use the student information system. We also offered to print out all the enrollment forms prior to enrollment for families without Internet access or computers."
After the forms are completed, either manually or electronically, parents will have the opportunity to enroll all their children in one day at one place. The district heard much praise last summer for its introduction of the all-district enrollment day, so from noon to 8 p.m. Aug. 11, any and all students in the district can be enrolled at Basehor-Linwood High School, 2108 N. 155th St.
"We recommend this enrollment day for parents who have students at multiple attendance centers in the district," Brutto said. "It's an easy, one-stop shop where parents can get all their enrollments done at once."
If this day doesn't work for families or they wish to go to the individual schools, they can do so from noon to 8 p.m. Aug. 12.
"This enrollment is more for parents who have one child in one of the buildings or maybe who couldn't attend the previous enrollment day," Brutto said. "Each school will be open for enrollment that day."
Online enrollment is temporarily closed through July and will reopen Aug. 2 through Aug. 10 for those wishing to use this feature. Each form will also be available during the two enrollment days for parents and students to fill out.
For more information, go to usd458.org, or call the district's central office at (913) 724-1396.