Soldier takes to road for military families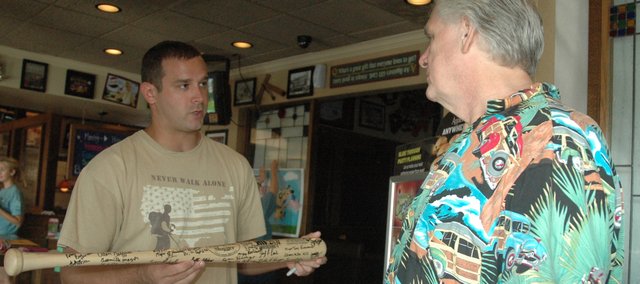 The heat index in Kansas has been up to 105 degrees some days, making long periods outdoors next to unbearable.
Troy Yocum, who spends each day hiking about 20 miles, can attest to this. He says it's hot, and the pack he carries with him is now mostly filled up with water bottles to combat the never-ending thirst and sweat. But there is something that keeps him going, and that something is the very reason he started walking across the country in the first place.
"I do get exhausted, but I find the energy all the time to keep going," Yocum said during a phone interview Sunday morning. "I start thinking about those families that are hurting and need help and know that a lot of times I feel that they rest upon my shoulders, and if I don't get to the next town or the next city, I'm not going to raise any more money. I'm not going to help any more families."
The families Yocum speaks of are military families of soldiers who return home from deployment unable, due to conditions like post-traumatic stress syndrome or depression, to find work and support their spouses and children. Yocum, who is from Kentucky and served in Iraq himself last year, said after trying to help a friend of his who was struggling to find work after returning home from war, the seeds of an idea to help others began formulating in his mind.
"He had to file bankruptcy," Yocum said of his friend. "So I started contacting charities … that's when I learned that thousands of military families are applying for financial assistance. And he would be going on a very long list of other applicants. So I immediately thought, 'Well, if there's that many people hurting, than I want to do something.'"
Yocum's "something" would be a 7,000-mile walk across the country, from Kentucky to California, to raise $5 million in support of military families. Carrying with him a hand drum to bang on, bearing on his back a sign outlining his mission, and bringing along his wife, his dog — a shiba inu named Emmie — and a support RV for any medical emergencies, Yocum makes quite the spectacle as he walks from city to city. As he travels, he makes stops periodically to attend sporting events, city engagements and fundraisers and conduct mayoral signings — anything he can do to raise some attention to himself and, hopefully, some much-needed funds.
Already, he says, "we're at $58,000."
Yocum started his walk in April from the Lousiville Slugger Museum in Louisville, Ky., and recently made it to Kansas, traveling through Bonner Springs Saturday afternoon and swimming in the lake at Lake of the Forest. Yocum said about 25 residents showed up as he passed through to show their support.
That morning he also attended a Flapjack Fundraiser at the Applebees at the Legends at Village West, in Kansas City, Kan., where Edwardsville Mayor John "Tiny" McTaggart signed the ceremonial baseball bat Yocum carries with him that mayors from throughout the country have signed. The bat is in deference to the Louisville Slugger company, which donated the first $1,000 to Yocum's hike, dubbed "Hike for our Heroes."
Yocum says his goal is to make the $5 million within 16 months, but he says he won't stop until that $5 million benchmark has been reached.
"In fact, if I do not raise the $5 million goal in the first 7,000 miles, I will continue to walk," Yocum said, also noting that if he does make the $5 million before reaching California, he will still honor his promise of walking 7,000 miles. "Because it's also about spreading the awareness about these families."
The heat has prevented Yocum's wife from walking the entire way with him and Emmie is "taking the summer off," but Yocum said he's often not alone on the highways and city streets.
"People believe in my cause, and they realize that the military families are really struggling right now. A lot of people come up and they walk with me," Yocum said, noting that, thus far, about 3,000 people have done just that.
Donations to Yocum's hike can be made by check sent to Soldiers' Angels, 1792 E. Washington Boulevard, Pasadena, CA 91104. Donations of $5 can also be made via text message to Soldiers' Angels, (626) 529-5114. Simply type in the numbers 20222, and $5 will be billed to your cell phone account. For more information, visit drumhike.com.