Victory lap special for
BLHS

 softball
Community support special for squad after a season worth savoring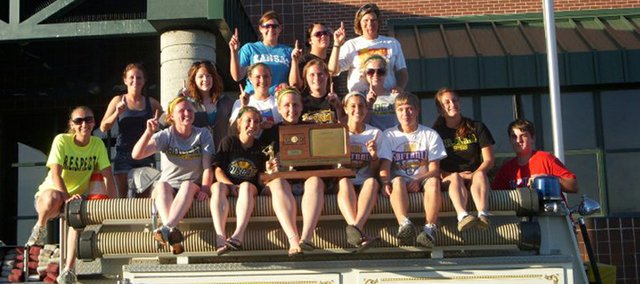 The Basehor-Linwood softball team has been on a memorable victory lap since winning the Class 4A state championship in late May.
The team made its first public appearance during Memorial Day weekend when it signed autographs at Dairy Days.
 A team picture was placed on a fire truck for onlookers to view as players signed autographs and were congratulated by community members. The championship trophy was placed prominently on the table in front of them.
Visitors congratulated players on the successful season, which was the first girls athletic state championship in school history. The BLHS boys basketball team won the 2009 Class 4A state title for the school's first Kansas State High School Activities Association-sponsored athletic state title in any sport.
"Yeah, we had quite a few people ask for autographs," senior Megan Rehm said. "A lot of people were just congratulating us. It was nice that the community could tell us that we did a good job and could share the championship with us."
Dairy Days organizers invited the team to participate, and coach Susan Mayberry said it was a special honor for the team.
"It was a lot of fun," she said. "The kids signed a lot of autographs. The people were just really proud of them. It was nice for the players and managers to be recognized." 
The team earned the recognition with its play on the field this spring. While the Class 4A state championship gives the team banner and a place in history, statistics tell the story of a team that dominated throughout the season.
Basehor-Linwood outscored opponents 200-43 this season. For every five runs the Bobcats scored, opponents scored one run.
In regional play, BLHS outscored opponents 18-1.
In the state tournament, BLHS outscored opponents 14-6, including a 5-2 win against Mulvane in the championship game.
Basehor-Linwood finished the season with a 24-2 record and an 8-1 mark in Kaw Valley League play. The lone league loss was to Mill Valley, which qualified for the Class 5A state tournament for the third straight year.
For the season, Megan Rehm led the team with a .537 batting average, and as a team the Bobcats had a .363. average. Three starters hit .400 or better for the season in Rehm, Caylee Smith and Hannah Tush.
The Bobcats also had a core group of players who drove in runs consistently. Rehm, Smith, Tush, Courtney Leive, Tara Chumley and Shelby Pierce all drove in at least 19 runs this season.
On the mound, Brooke Redmond led the team with an 18-0 record, a 0.94 earned-run average and 173 strikeouts. Pierce finished the season 6-2 with a 1.96 earned-run average.
Mayberry said it was a special team to coach.
"They come along once in a lifetime," she said.
Expectations were different for this team early in the season and as it progressed, players set a goal of winning state.
"I don't know if every year we go in thinking that we will win state. I think every year you hope to get to state," Mayberry said. "This team, though, we played so consistent all season. (There were) not a lot of ups and downs. A hiccup against Mill Valley and that was it. We found ways to win and executed. I think we all felt that it was our year, and it all fell into place. We were just solid all year."
BLHS players peaked late in the season, avoiding the miscues that had occurred for previous teams in regionals.
"We had great hitting and advanced runners on the bases," Mayberry said. "We took advantage of miscues. We had great pitching and defense. We had it all, all the ingredients needed to be successful. I am so happy for the kids. This is something they will have forever."
Dairy Days was just the first stop on the victory lap to a memorable season. The team reconvened June 21 to take the commemorative photo that will find a permanent home on the gymnasium wall this fall. After that, the Bobcats were recognized by classmates and community members at a pep rally at the school. The ceremony included player introductions, a highlight video and another autograph session.
Major events are now over, but as Mayberry said, the memories of a state championship season will stay with her team forever.