Championship caps Rehm's stellar career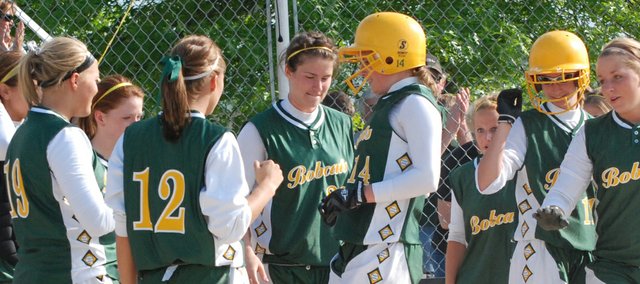 Megan Rehm stood at third base and watched as Hannah Tush settled under a fly ball.
"I knew she had it," Rehm said.
When the catch was made, Rehm sprinted toward the mound and celebrated with her teammates as Basehor-Linwood had just captured the Class 4A softball state championship.
Rehm hasn't stopped smiling since.
"Well, it has been (a few) days and I still can't believe it," she said. "It is crazy. It is so exciting. When we won it was like a dream come true. It was just surreal. I can't even describe it. We finally did it.
"I was excited. In the semifinal game, I was like 'I can't believe we got this far.' In the championship game, I was like 'we can't finish second.'"
The state championship was a fitting end to an outstanding high school softball career, Rehm said. It also capped what has been a memorable spring. She graduated as valedictorian of her class. Coaches named her the BLHS Female Senior Athlete of the Year, and she was selected to play in the MO-KAN All-Star Softball Challenge in early June.
None of that, though, compared to winning a state championship.
"The end of my year has been my favorite; winning state and graduating was great," she said. "All of the girls on the team, we get along so well. I am so close to all of them. It was a great way to end the season and my career playing softball. I would say all that other stuff is great, but this is big. This is special. It meant a lot to win state. It was nice."
Rehm has been through the battles and losses as much as anyone. She has played on the varsity squad since her freshman year. She experienced heartbreaking regional losses during her sophomore and junior years, and she savored the team's success in her final season.
In a way, it was the end of a special career that began more than a decade ago.
Megan Rehm stood on the softball diamond and waited for the coach to pitch.
She was 6 years old and just learning to play softball.
The batter hit the ball to her. Rehm caught it and then beat the runner to the bag at second base to complete a double play.
The crowd cheered.
Rehm was hooked on the sport.
In the years that followed, Rehm couldn't play enough softball. She dreamed of playing for the Bobcats and winning a state championship.
Rehm first got to know BLHS coach Susan Mayberry during elementary school while attending her summer camps.
"She came to team camps in grade school and middle school; she just worked," Mayberry said.
In high school, Rehm was ready to step in and play. She was a left fielder as a freshman and sophomore before switching to shortstop as a junior.
"She has contributed and given four years to our program," Mayberry said. "She is leaving the program better than what it was when she got here. We have great tradition here because of kids like her that go through the program."
More than just a softball star, Rehm also competed on the powerlifting team and ran cross country.
Rehm said she learned a lot of mental toughness from powerlifting. Competing in the 156-pound weight class, she won the hang clean, bench press and overall competition at state.
Meanwhile, she said cross country was a test of wills.
"Cross country … I enjoyed it. It tested your limits," she said. "You compete against yourself. Every race I just worked hard and tried to get better. The mental aspects helped prepare me for other sports and taught me not to give up. It helped prepare me for other sports. Powerlifting is the same as cross country in that you compete against yourself every meet. That helps me with softball, too."
Yes, softball has always been her first love. It is the sport that has given her the most friendships.
Rehm said it is Mayberry and other coaches, along with her teammates who make playing the game special.
"My team … they are my closest friends," she said. "We all like each other, we all get along. We all help each other and want to win."
Rehm had chances to play softball in college, but she is bypassing them to focus on her studies. She plans to attend Fort Hays State University and major in physical therapy.
"I am ready to do some new things," she said. "I want to do other things. It is tough, but I just decided to go to school. I still plan on playing on a competitive team in the summer."
She has chosen to study physical therapy because she wants to help people with injuries. She said it is a passion for her.
"I have had to go through physical therapy, and when my grandpa had heart surgery he needed a physical therapist to get (him back) on his feet," she said. "I think it is a great job to have. It just really interested me."